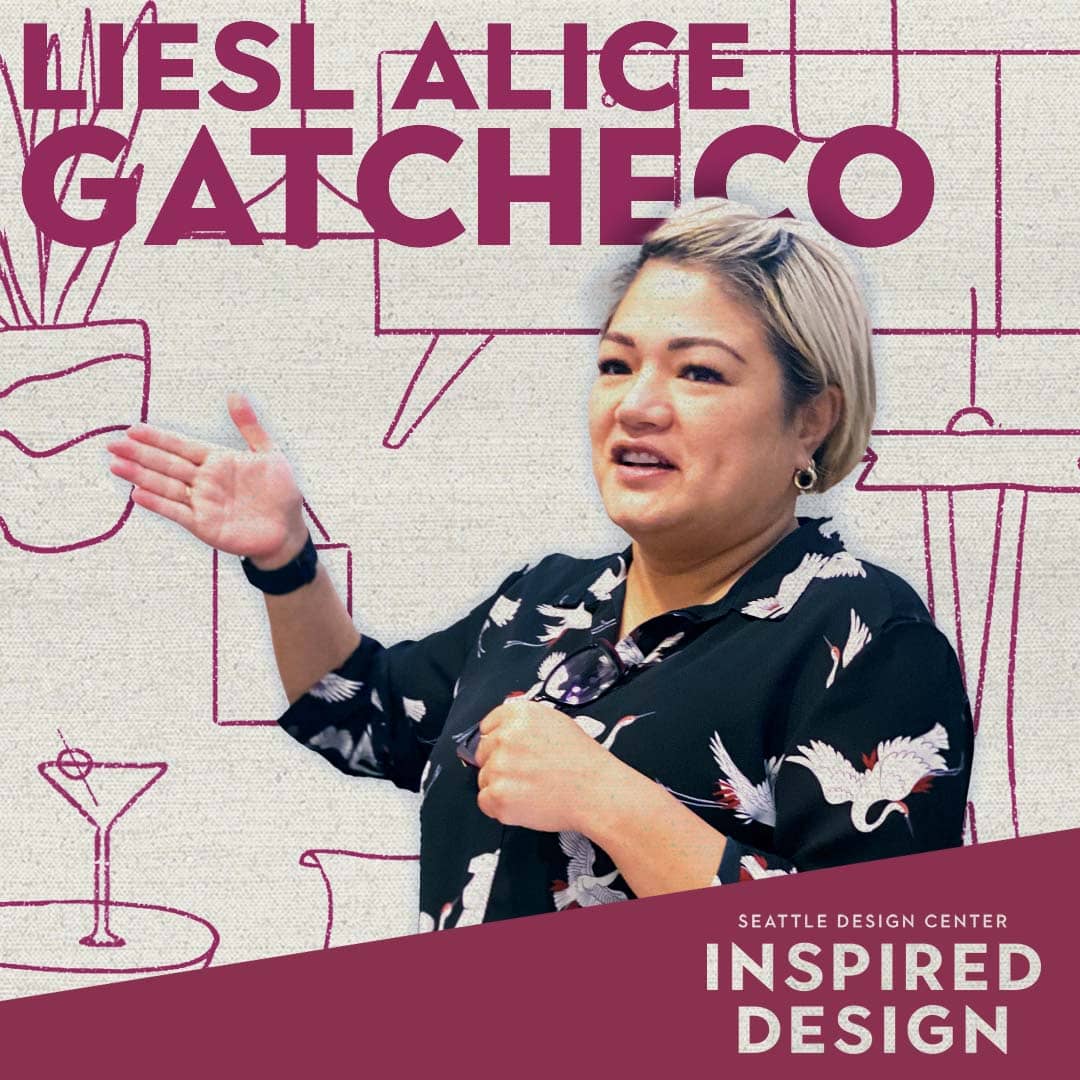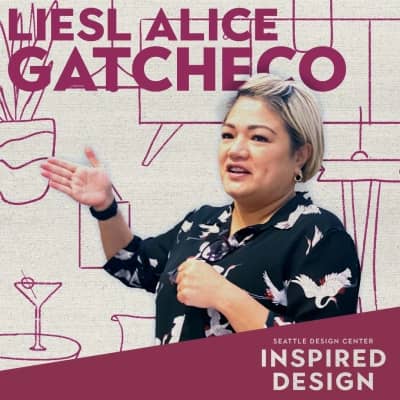 Liesl Alice Gatcheco | Opera Opulence
In this episode of Inspired Design, Liesl Alice Gatcheco, Director of Costumes, Hair and Makeup at Seattle Opera reveals what it takes to bring a performance to life. Learn how Playboy altered her career path and how she is now paying tribute to traditional opera while developing modern performances that culturally represent our world today.
Listen on your platform of choice
[abcf-grid-gallery-custom-links id="4622″]
Learn More
VISION
Seattle Opera is a cultural icon of a major world city that speaks to all communities of, and visitors to, the Puget Sound region.
MISSION
By drawing our community together and by offering opera's unique fusion of music and drama, we create life-enhancing experiences that speak deeply to people's hearts and minds.
Episode Transcript
Liesl Alice Gatcheco:
Something in my mind I can have made by professionals in the costume shop is such an incredible opportunity. I don't know, I can't even tell you the feeling that you get when you see something that was just an idea and then suddenly there's this singer wearing it, breathing life into it. And you see a story being told and people affected by it, I love being part of that.
Gina Colucci:
I'm Gina Colucci with the Seattle Design Center. Every week on Inspired Design, we sit down with an iconic creator in a space that inspires them. This time on Inspired Design, Liesl Alice Gatcheco, Director of Costumes, Hair and Makeup, gives us a backstage tour of the Seattle Opera.
Liesl Alice Gatcheco:
I came here thinking I was going to work for one year. I was a stitcher in the costume shop in 03, kind of when they first opened McCaw Hall and I just kept coming back. I was a stitcher, then I was assistant wardrobe head. I heard they needed someone in the hair and makeup department, that job was going to last a year and that lasted 11, because of all the changes over the pandemic, I became the Costume, Hair and Makeup director. So here I am.
Gina Colucci:
I was so excited to dive in to the creative process that, I wanted to start the tour right away. When you enter, you're taking aback by how big this collaborative space is. They've got working stations and sewing machines the size of sofas and ironing boards the size of VW Bugs and racks of mannequins. And they've got everything they need in one place to bring stories alive. I feel like I'm on the set of Project Runway.
Liesl Alice Gatcheco:
Yeah. So this is the shop. All our sewing machines. We have nine big huge cutting tables, our huge ironing boards, all this fabric and lining. If we go over here, this is our wig and makeup room. Then we get to see the space needle from here.
Gina Colucci:
Wow. After you get over how large the main space is, you realize there are these little rooms off to the side and one of them, it's not so little is where they make the wigs. It reminds you of a hair salon with the different stations, but then you realize they aren't cutting people's hair. They are creating wigs.
Liesl Alice Gatcheco:
We have all different stations and Ashley and her team come in here and ventilate wigs, which is the act of tying hair into the wig lace just like what you can see right here. So we do a tracing of each singer's hairline.
Gina Colucci:
I was a little curious at the process and the attention to detail that went into the creation of the wigs. And Liesl is showing me how the wig makers sew in each strand, and how they will take a model of the actor's head and even draw where their hairline is for reference. So they can make it as realistic as possible. And what kind of hair is this?
Liesl Alice Gatcheco:
It's human hair.
Gina Colucci:
It is? Cool.
Liesl Alice Gatcheco:
It is sourced from all sorts of places.
Gina Colucci:
Like finding my hair. You have a basket of rats in here.
Liesl Alice Gatcheco:
Yes.
Gina Colucci:
I bet.
Liesl Alice Gatcheco:
So rats are these nylon sponges that you put inside wigs to give height to the wigs. If you need like a bouffant or a bigger bun or something like that, you put it inside the hair. Yeah.
Gina Colucci:
The volumizer.
Liesl Alice Gatcheco:
The volumizer right?
Gina Colucci:
I like what they called it.
Liesl Alice Gatcheco:
Yeah. And they actually have a rat photo.
Gina Colucci:
Can you tell someone you have a sense of humor
Liesl Alice Gatcheco:
It's pretty funny.
Gina Colucci:
Yes.
Liesl Alice Gatcheco:
Yeah. Oh gosh. We all do.
Gina Colucci:
One of the wigs that was finished and was up in the corner on display was this ornate long woman's hair in an updo. But in the middle of the updo, there was a whole model ship in it.
Liesl Alice Gatcheco:
This is a big wig dryer. So Ashley will roller set wigs before styling them. And then we put them in this dryer to bake. Yeah.
Gina Colucci:
It can take up to 40 hours to create one wig. If you think about it, that's our average work week to make one piece of a performer's costume. And each strand of hair is sewn in by hand into the netting that will create the whole wig.
Liesl Alice Gatcheco:
How things have changed trends and opera, lots of new young directors don't like wigs, because they look too wiggy, fake and they'll want natural hair, but they don't understand that the singer has to sit there to get their hair done. Also McCaw Hall is huge, right? So that's fine for TV, but on a huge stage where the closest person is a hundred feet away, a costume is big. And if you have your own hair, you look like a pinhead. So the wig really helps to balance out the whole look.
Gina Colucci:
The wig is like the cherry on top for the costume and in the opera, traditionally things are bigger and more elaborate. And to create these worlds, it's obvious they needed a lot of space. So this building was built in 2018.
Liesl Alice Gatcheco:
Yes.
Gina Colucci:
What did your wig shop look like before you moved in here?
Liesl Alice Gatcheco:
Oh, we were like in a crappy utility closet outside of a elevator. So over here, laundry and then our thread, and specialty machines and every color you could ever think of, this is our shoe storage.
Gina Colucci:
And we got to see some other rooms that are critical in the creation of the costumes and the hair and the makeup, everything down to boxes for accessories and then racks and racks of shoes and all different sizes and colors and make.
Liesl Alice Gatcheco:
There's even more than that. Leather belts, any sort of accessory you might need over here.
Gina Colucci:
They have a whole wall of yarn in every color, a whole wall of different undergarments, cufflinks, glasses, jewelry, hair pieces. Do you need a garter.
Liesl Alice Gatcheco:
Yeah. Or arm bounds. Cummer buns, Henleys.
Gina Colucci:
And the shoe racket. It's two levels.
Liesl Alice Gatcheco:
Yes.
Gina Colucci:
So beneath there's like boots and bins full of shoes and then a staircase up where it's almost like you're in a department store.
Liesl Alice Gatcheco:
Exactly. That's true. So this is the crafts area. So our Craft Supervisor, Miriam works here. So she works on all the non clothing, things like making hats, shoes leather work, any kind of embellishment that you might see on a costume. Feathers on a pat or anything crazy that we need to make happen. Miriam can just magically do it. This is the dye room.
Gina Colucci:
The dye room almost looked like really nice laundry room in somebody's home, except for the fact that they have this giant vac in the room that is used to dye garments and fabric. And by giant, I mean like a big, hot tub.
Liesl Alice Gatcheco:
Washing machines, sinks, ventilator, basically any color of fabric or shade or texture pattern that you want dyed, Miriam can make that happen. For Orpheus, which we're producing in January, I wanted a lot of Japanese shibori prints on the dancers. So I'm going to ask Miriam to dye some unitards for the dancers like that and some kimono top kind of thing. So we'll see how that plays out. And then this is the painting rooms. And we also have a big, huge spray booth.
Gina Colucci:
The spray booth looked like a large service elevator. It was all made out of metal. It had a big vacuum coming out of the top to keep the air clean when in use. And doors that you could close. And then it had some hanging rods inside. So you could hang up whatever you were painting.
Liesl Alice Gatcheco:
You can hang up costumes in here. Or sometimes the props people come in here and use it just so that, we don't have to smell any of those fumes.
Gina Colucci:
You even have a fume [inaudible 00:09:28].
Liesl Alice Gatcheco:
So, and then is our fitting room. It's split into two sides.
Gina Colucci:
We quickly walked past the fitting rooms, which were larger department store fitting rooms. But you would have to be able to fit three, four or five people in there. Because you have the performer and then the seamstresses and an art director, all having to fit in one room to, to make sure everything is perfect.
Liesl Alice Gatcheco:
For one person on stage. Like MiMi, for example in bohème, probably like 10 people worked to make her look how she does full-time. Yeah.
Gina Colucci:
Wow.
Liesl Alice Gatcheco:
Yeah. So you think about people who fit the costume, those of us who decided who was wearing what? The wardrobe department, the wig department, the hair and makeup crew. So this is our costume collection.
Gina Colucci:
Oh my God.
Liesl Alice Gatcheco:
Yeah.
Gina Colucci:
So this room is probably-
Liesl Alice Gatcheco:
It's like Costco.
Gina Colucci:
It is, I feel like I'm in Costco costumes.
Liesl Alice Gatcheco:
Yeah.
Gina Colucci:
There's 10 rows racks.
Liesl Alice Gatcheco:
More than three levels each.
Gina Colucci:
Yeah.
Liesl Alice Gatcheco:
All our petticoats and corsets night gowns, contemporary costumes. And it starts getting older and then to fantasy toward the back, 19th century gowns for coats-
Gina Colucci:
It's the Bridgerton row.
Liesl Alice Gatcheco:
Yeah, exactly. The Bridgerton row.
Gina Colucci:
After the initial shock of what walking into that room, you realize that everything was organized and that's no easy task.
Liesl Alice Gatcheco:
One of the first things that I kind of took on was trying to figure out how to best organize this. So we're working on a whole bar coding and digitizing program. For us, so that we can get the shows together faster instead of running around, trying to find things. So other people can rent from us, even local theaters and stuff like that. I just like to be more active in the community and let people use our resources because there's a lot of amazing things that haven't been touched for 20 years. And to me, that's really sad.
Gina Colucci:
Every piece though, is handmade.
Liesl Alice Gatcheco:
Absolutely.
Gina Colucci:
From scratch.
Liesl Alice Gatcheco:
From scratch. Yeah.
Gina Colucci:
And these are beautiful gowns.
Liesl Alice Gatcheco:
Yeah. And, they have boning and lining. I mean, they're really made to last 30 years for sure. That's why I'm like, "There is actually crypto in Seattle and nobody knows about it."
Gina Colucci:
I was struck by how you could tell the quality of each piece just by a quick glance.
Liesl Alice Gatcheco:
You wonder why couture gowns can be $45,000. I can tell you why, because there's 10 people working on it and hand making it and sewing it on little details. Lace speeding. I mean down to the corsets they made from scratch.
Gina Colucci:
Oh my gosh.
Liesl Alice Gatcheco:
Every single thing was handmade.
Gina Colucci:
I couldn't believe it, but we stumbled upon the first dress that Liesl had ever made for the Seattle Opera. And it was Carmen's cigarette factory dress.
Liesl Alice Gatcheco:
So when she's working in the cigarette factory I believe.
Gina Colucci:
And it's heavy.
Liesl Alice Gatcheco:
It's heavy. It's probably 20 pounds.
Gina Colucci:
And you have another, almost very similar version.
Liesl Alice Gatcheco:
Yeah.
Gina Colucci:
Here.
Liesl Alice Gatcheco:
I mean, we have several versions of Carmen depending on the person or the singer, their size. If we need to build a new one for somebody new coming in, goes all the way back here. I mean, we have crazy armor. More boots fabric, we're going to do a build for Santa Fe opera.
Gina Colucci:
What's that?
Liesl Alice Gatcheco:
Do you need an Anubis head? And the fact that just something in my mind I can have made by professionals in the costume shop is such an incredible opportunity. It took like three or four people to build this double face duchess satin. First I did a sketch obviously, and this pleading part was not on the sketch, but once we threw it on the dress farm, I knew something else had to be there. I love the singer Lexi LoBianco who actually wore this dress. She cried, she was so happy that something was built for her to actually flatter her size. So that was really special to me. I don't know. I can't even tell you the feeling that you get when you see something that was just an idea. And then suddenly there's this singer wearing it, breathing life into it. And you see a story being told and people affected by it. I love being part of that. Hopefully she'll be back and will do it again or get a chance to design something new.
Speaker 4:
Seattle Design Center is the premier marketplace for fine home furnishings, designer, textiles, bespoke lighting, curated art and custom kitchen and bath solutions. We are located in the heart of Georgetown, open to the public Monday through Friday with complimentary parking. Our showroom associates are industry experts known for their customer service. We are celebrating new showrooms and added onsite amenities. Visit seattledesigncenter.com for more information about our showrooms and our Find a Designer program.
Gina Colucci:
I wanted to know how Liesl became the director of costumes, hair, and makeup.
Liesl Alice Gatcheco:
I'm very good at change. I think because I'm really good with change. It kind of helped through the pandemic and all those things. I actually, I think deep down my ability to be flexible and be able to deal with change is because I'm the child of immigrants for sure. And I can understand where different people come from and it's not hard for me interpreting things is like so natural for me.
Gina Colucci:
Do you think that helps your creative process as well? The flexibility?
Liesl Alice Gatcheco:
Absolutely. Before I went into opera or theater, I was in fashion and I had big dreams to be a fashion designer. I was born and raised in Seattle and moved to New York when I was 18 and went to FIT and had these dreams to become a fashion designer. And I was a fashion editor for a short time at Esquire magazine, Mary Claire magazine. It's a hard business. It's not to say that I didn't meet some wonderful people, but it's a numbers game. It's about making money. And when you're designing… Any piece of clothing you buy in a store is driven by a merchandiser. They work closely with you to tell you what was great last season. I need this many styles, and then you're kind of designing for this customer. You don't really know, but you're just make all these assumptions.
Liesl Alice Gatcheco:
And what I love so much about designing in theater and opera is you have these crazy constraints. Which like a certain genre you have to design within, a certain director wants these elements, a set designer wants these elements. The lighting tells you, your budget tells you how much you can spend and build. So I don't know, that's more exciting to me. And what I do is so dependent on these other people in our creative team and you get to be there from beginning to end. So it's really a satisfying creative process. You see a mockup, you see something built and tweaked and then on stage, and then it's done. I always thought that because I'm more of a generalist that, that was a problem. It's you see all these successful people, I'm doing air quotes who are specialists, but in reality have really served me to have done so many different things.
Gina Colucci:
I knew Liesl had a great story to tell us, she designed and manufactured the classic Playboy bunny costume.
Liesl Alice Gatcheco:
So that's funny. I was a designer in LA. So in the late nineties, a friend of mine came to me and was like, "You know how to sew, right? I was like, "Yes." I think I was a designer at GUESS at the time or something. Which when you're designing for companies like that, you're not actually making anything it's all on the computer and communicating with factories. And I was like, "Yes, I do." He goes, "Well, a friend of mine is having fit problems for Playboy, they're trying to relaunch the bunny costume, can you help with that?" I was like, "Okay." Didn't think it was anything. Because I had been doing a lot of costing jobs all over LA, and so I brought my sewing machine over to the offices in Beverly Hills.
Liesl Alice Gatcheco:
And the bunny costume is a work of engineering. It is a seven piece boned costume that is like a bulletproof vest. That's how you get that shape on the women that you see, because it's really tight. Sometimes it takes two or three people to zip them into it. Because I had gone to FIT and I had mad sewing skills, it wasn't a big deal for me to help figure it out. And, I mean, it took a while, but I was into it. And so they eventually got rid of the stylist who was trying to develop it and gave the job to me. And it became this 12 year relationship where I started making the bunny costumes worldwide, it was a good run. It was an amazing account to have, I remember when I told my parents, they were kind of silent. But then, they were like, "Oh, it's very technical." The girl's really professional nice. So it was a fun experience, I would take my friends to parties there and all that stuff. And it was a great run, a great experience.
Gina Colucci:
A lot of industries were hit hard during the pandemic and one was live performances. And you realize how many people it takes to put on a production. They're just starting to come back, they're just starting to get back to their new normal. And you could tell that the building was just starting to come alive again.
Liesl Alice Gatcheco:
I'm trying to figure out ways to train young people, get them more excited. And also for me being a person of color, that's really important too. I grew up in North Seattle, Shoreline, mostly white people. I was never exposed to the opera, I had never heard of it. I knew musicals, but opera never touched me somehow. So our education department is trying to do things to reach out to other people because, we will not to keep this art form going unless we do. Not only hiring people to be on stage and backstage to create the art, but telling new stories. A lot of the classics that we do are a hundred years old, told by white men and sadly there's perspective of a white man on another culture. You see that Orientalism in it and that's okay, no one here living today was trying to do that, it just happened and history is convoluted and a really hard thing. But, what we need to do is tell new stories about different people, different cultures, different age groups, different experiences. Yeah.
Gina Colucci:
Do you have any operas that you're producing that kind of tell a different perspective?
Liesl Alice Gatcheco:
We have an exciting one next season. This is why I love my job. We are producing an opera based on that novel A Thousand Splendid Suns, our General Director, Christina Scheppelmann went out and found a female filmmaker from Afghanistan and invited her to direct it. So she came here for meetings during the time that the US was pulling out of Afghanistan. I loved just talking to her and hearing her stories and learning things like burqa styles changed to depending on how close you are to certain borders, India, Iran, all these different things. But just, it was such an education and such an opportunity for me to actually be touched by somebody whose experience sadly was difficult, because she can't go back right now and her family's there. But the fact that I'm touched by something big that you see in the news and I can experience her story. So I love things like that.
Gina Colucci:
Yeah. And so, will her experience be able to kind of go into that show and…
Liesl Alice Gatcheco:
Yes. Absolutely. I hopefully will take a trip somewhere that is safe, to go buy fabric and stuff and costumes and do my best to be culturally sensitive and produce the right thing to tell the story in the way that she wants. That is so exciting and inspiring for me.
Gina Colucci:
It's really exciting. By this time we had made a full lap around the facility.
Liesl Alice Gatcheco:
I'm just going to walk you back into the designer room.
Gina Colucci:
We came across the pin board.
Liesl Alice Gatcheco:
This is just my inspiration board kind of, and then photos of the performers who will actually be wearing the costumes.
Gina Colucci:
Where Liesl had put up images from newspapers or printed out from the internet. And you could tell that this was the beginning of her creative process.
Liesl Alice Gatcheco:
So basically during the kind of creative team development process, the set has gone through quite a few iterations. Our set designer, Carrie Wong from UDub did actual mockups. The conversation was mostly between starting with him, the Director of Production, my boss, Doug and the director developing this world. Orpheus is in love with his wife Eurydice. She dies and he goes to the underworld to go get her. And there's… So this is kind of the world-
Gina Colucci:
Wow.
Liesl Alice Gatcheco:
These people will inhabit.
Gina Colucci:
And you're showing us renders on paper of what it will look like.
Liesl Alice Gatcheco:
Of the set. Right? So, and then the director, she actually put together some visuals of how she sees the singer's costumes to be, or the visuals for them. One thing that was really important to her is that they're young and modern, but for me I like going over this, most of the time I just listen. I listen for a long time and kind of let it marinate in the back of my head before I make any decisions.
Liesl Alice Gatcheco:
And sometimes that's actually a good thing to do because the set went through three different transformations. I mean, same feeling, but three different transformations. So I decided to wait till they painted the floor, which is this pattern right here. And one thing that I kind of brought to the table is that she wanted modern costumes, but this isn't a modern world really that we see it's very ethereal.
Gina Colucci:
I mean they're in the pattern that you pointed out.
Liesl Alice Gatcheco:
Yeah. It's very otherworldly.
Gina Colucci:
How would you describe it? Yeah, it's…
Liesl Alice Gatcheco:
They're calling it, I believe chaos pattern. I needed to figure out a way to bring this kind of dark ethereal underworld into the modern world at the same time. And we're presenting it in Tagney Jones Hall. So that is way more intimate than McCaw Hall. So that's another thing I have to consider.
Liesl Alice Gatcheco:
People are going to be very close up and really examining the costumes. So for Orpheus, I didn't think he could be like this modern as far as just a suit. So I'm going to bring in some textural elements in gold and a lot applique. And also some Japanese elements. So kind of bringing some of her ideas and some of my ideas and I present them to her to see how she feels if they'll work in the world, and hopefully she'll say yes. So I'm just at the point waiting for us to kind of finish what the look is like Amore is really Cupid, in our minds eye it's a chubby little guy with a arrow, but-
Gina Colucci:
For the hair.
Liesl Alice Gatcheco:
Yeah. But her interpretation of Amore is that character is neither good or bad, and that character is androgynous. I wanted to bring some cool modern elements with a little bit of fantasy in there, but we'll see how the costume develops. I think what I'm going to do is have a base costume of a red kind of tight suit and then add elements like feathers onto her. Cupid has feathers sometimes like an angel, but in a very modern dark way, totally different than what you imagine. And then I am in love with bull cuts. So instead of doing the obvious, like slicking a woman's hair back to make her look like a man, I think I'm going to do this crazy androgynous bull cut with really big shoulder pads.
Gina Colucci:
That sounds amazing.
Liesl Alice Gatcheco:
Yeah.
Gina Colucci:
Can't wait for that wig. Yeah.
Liesl Alice Gatcheco:
These are the dancers. They have two parts. One is they are wedding guests at the beginning. So they'll have that modern and ethereal look that like what Orpheus has. And then a really famous piece of music is Dance of the Furies in the opera and that's interpreted so many different ways. So in this design I have to find out what kind of movement is required. The director mentioned how she likes Chinese water sleeves. It's Chinese dancers who have sleeves that are 10 feet long or something like that. Which, is this tiny element here, so I'm going to try and figure out how to incorporate that into my design. I love all these different constraints of this person wants this. This person wants that they have to move this way. This fabric will work for that this or that kind of movement, this certain fabric will not.
Liesl Alice Gatcheco:
And then there's a technical side. We are doing 18 performances, I think six every week. So I have to take into consideration the wardrobe department. So they're going to have to wash and turn the wardrobe every night. So maybe for our phase jacket, I'll have a snap-in lining, because I don't know if we can turn dry cleaning that fast. So I think about those technical things as well. I mean there's so many times I've been in the wardrobe department and when you get costumes where the dye has not been set. Yeah. And then as a wardrobe person, you'll be washing something and it'll bleed onto the other thing and then emergency call happens and then people try to remake a new one. There's always some sort of drama. So I think because I've been in wardrobe, I understand those tiny details that might seem like nothing, but will make it easier for the crews to actually run the show.
Gina Colucci:
And you know, along with the intensive labor and the work that goes into each piece, what do you hope viewers feel when they come and watch these shows?
Liesl Alice Gatcheco:
Yeah, so I mean there are definite opera fanatics out there who love it and understand it, the work that goes into it. But, there's so much competition in entertainment these days. I think a lot of people don't understand what's involved. If you're not exposed to opera, I can imagine some kid saying, "Oh, I'm just going to go there and fall asleep." But you have to be there to receive it. The first thing that is considered in this art form is the music obviously. So we're really lucky the symphony plays for us, we have these world class singers. The spectacle of grand opera is amazing and it's hard to find that live experience. So I hope they take in not just the music, the orchestration, but the whole atmospheric experience. Even walking into McCaw Hall, even having a drink.
Liesl Alice Gatcheco:
I've attended opening night, which I haven't done for a long time. I got opening night tickets for my team so we can all kind of celebrate being back together. And it was a really nice to sit in there and feel the excitement of the audience, especially since kind of our homecoming back from the pandemic. But I hope that they see the grandeur of it and really appreciate that and just know that there were hundreds of people putting their blood, sweat, and tears into it to make incredible presentation, which you don't get to see that much these days. I mean, how many months did we all spend watching Netflix, which I am very guilty of, but most of it is special effects on a computer. So there's something really special about what you see visually, what you hear and then what you feel from the audience around you.
Gina Colucci:
Thank you, Liesl, for the fascinating tour. For more information on upcoming shows, head to seattleopera.org. Inspire Design is brought to you by the Seattle Design Center. The show is produced by Larj Media. You can find them at larjmedia.com. Special thanks to Michi Suzuki, Lisa Willis and Kimi Design for bringing this podcast to life for more head to seattledesigncenter.com, where you can subscribe to our newsletter and follow us on social media. Is there an iconic Northwest creator that you want to hear from head to our website and leave a comment. Next time on Inspired Design, Braden Abraham, Artistic Director at the Seattle Rep takes us on an in depth tour of the theater.
Braden Abraham:
When I put a season together, I really think about the whole journey for the audience. And I'm really excited about what this year has to offer.