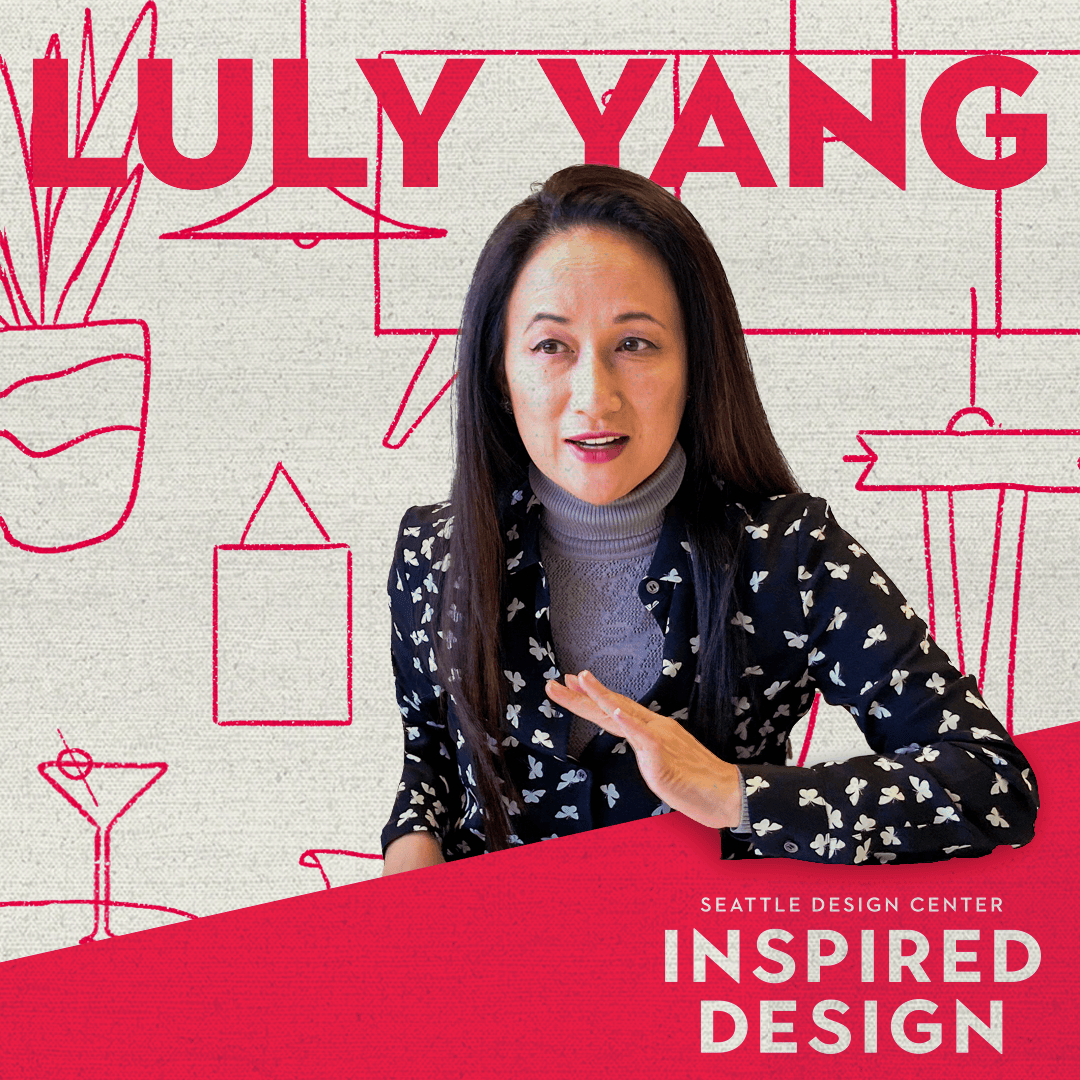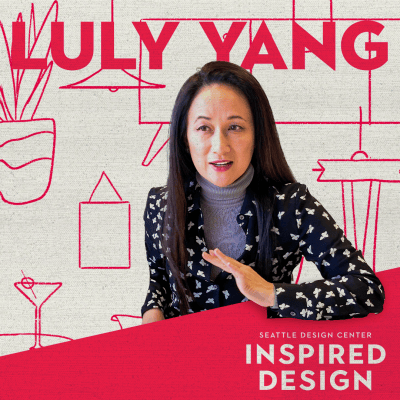 In this episode of Inspired Design, Luly Yang takes us on a journey through her world-renowned bridal, couture and uniform collections, gives us insight into her signature creative process and reveals for the first time, her next collection that will launch this Fall. This episode is a delightful escape that begins with tea, transports us overseas, then back to the picturesque views of Luly's inspirational space. And we finally get the answer to one of our biggest questions: What is design?
[abcf-grid-gallery-custom-links id="3649″]
Episode Transcript
Luly Yang:
I've fallen off of trees. You know I came from downtown Seattle where we have, really, skyscrapers. When we look out our window it's buildings, and I love architecture too, and right now I'm very much inspired by nature.
Gina Colucci:
I'm Gina Colucci with the Seattle design center. Every week on Inspired Design, we sit down with an iconic creator in a space that inspires them. [inaudible 00:00:27] I recently met up with fashion designer, Lily Yang, in her Kirkland studio about the evolution of her 20 year career and how she continues to find inspiration in everything from teapots to maple trees and even a strong sense of place.
Luly Yang:
Hi! It's so good to see you.
Gina Colucci:
We walk in to her corner office with these big bay windows looking out at the Kirkland waterfront. She has this stark white desk, and then, in the middle was this striking red teapot with these cute little cups.
Luly Yang:
I make tea crafts.
Speaker 4:
I love the red teacups and the… [inaudible 00:01:07]
Gina Colucci:
And it just set the stage for a lovely conversation that afternoon.
Speaker 4:
It's beautiful. It's striking.
Luly Yang:
Yeah, I love it.
Gina Colucci:
So you might know Lily Yang as the international known fashion designer, she's based here in Seattle and has done everything from bridal couture, to runway gowns, to uniforms for some of the most well-known companies here in the US. She mentioned the uniforms she designed for Alaska Airlines in passing.
Luly Yang:
I Lived in Austria for three years and I came back to do Alaska airline.
Gina Colucci:
But no small undertaking. The airline selected her to revamp their uniforms in 2016 for its 20,000 plus employees.
Luly Yang:
It's such a musical city and you see people walking around with their instruments everywhere. And we lived really close. We were in the first district close to the Stefan Stone Church. So the main church, And we walked by, were very close to the main opera house. And it's so beautiful there. I actually, when I was there, I designed a collection called crescendo. Places really inspire me. So when I'm at place, usually I will create a collection based on that location. And that was really fun. That crescendo collection. So I don't know if you've seen, maybe I'll show you, but we have piano and violin
Speaker 4:
It's at the moPOP right now?
Luly Yang:
Yes. So that was really fun. I love that crescendo collection.
Gina Colucci:
Vienna is one of the many places Lily has called home and drawn inspiration from. Her parents are from Taiwan and were studying in Japan when Lily was a baby. Her family moved back to Taiwan when Lily was a toddler and then immigrated to the US when she was in fifth grade. Moving to the US was a tough transition for Lily. She had to learn English quickly out of necessity. There were struggles, but she told me she's ultimately happy that HER family made the move. It gives her a different perspective in life. And it also influenced her work as a designer.
Luly Yang:
I remember every dress I've ever made in 20 years. So I reserve my brain capacity for these things, different selection.
Speaker 4:
What helps you remember them? Is it just, you can just kind of like…
Luly Yang:
I just remember them because you create them. They're babies, they're all my babies. Are many of them, so I remember them. I always, with my team, we always personify them because it's easier. We name them after they're made. So they have a name and they have a concept, usually they're highly conceptual and then we named them. And then it's really easy to remember.
Speaker 4:
What was your favorite name? That's come out of that process.
Luly Yang:
I did a metamorphosis collection and that was for my 10th anniversary of my business. And we kind of look back in the 10 years and what happened. So we've made a parallel between kind of the, my life and my career, and the butterfly. Cause it's my iconic dress. So you've seen them. It's funny, most people don't know that's my first dress I ever made. Oh, actually it was a fashion show to benefit Art with Heart. And they invited graphic designers, not fashion designers, graphic designers to do it and pair them with paper companies. And I was paired with Mead paper company. So they're pretty awesome company. And they wanted to promote a certain paper and I took a butterfly wing and Photoshop and worked with it. And it made a really, really big and draped the dress out of paper. That was hard. After I did that, I started my business. I fell in love with the process.
Speaker 4:
Just through that?
Gina Colucci:
And then how did it feel changing careers?
Luly Yang:
Scary at first, I think because I do like architecture, it was hard to… Actually didn't leave it. I did part-time and then I started my business and then within a year I didn't have time anymore to do that. So then I kind of slowly left it.
Speaker 4:
So it was a natural trend.
Luly Yang:
Yeah. I try to do things organically and it's more comfortable.
Speaker 4:
That's beautiful. And then I guess kind of back on that inspiration from creating this beautiful Monarch butterfly dress out of paper, how did you then transition into working with fabrics and textiles?
Luly Yang:
I've always wanted to do fashion though. It wasn't a new thing. I was not surprised that I switched. So I think I knew when I was six. So I was already sketching at a very young age before, I think before I went to elementary school. So that was, I think it just came, I just came back. So I came back to what I didn't arrive at a new location. I just kind of came back to where I wanted to be.
Speaker 4:
And when you were six, do you think that little girl sometimes is still in your designs?
Luly Yang:
Always. I think it's my dream come true. I'm really happy that I, 20 years ago, I chose to take the plunge and change my career and switch to fashion because I love it so much every day. And I think that's rewarding.
Speaker 4:
Yeah. I mean, each dress is your baby.
Luly Yang:
And I care very much about the product that we design and what we bring out for our clients, whether it's one client for couture or, you know, Alaska airline for all the employees. And since I treat the process the same way with the same intention. And so it's very, very rewarding. I love it so much. I'm so happy I did it. I really am really happy.
Speaker 4:
What's your favorite part about the creation process? Like from beginning to end, you have one part that you liked the most?
Luly Yang:
I love the moment of conception. So the moment that I conceive the idea and the idea is exciting because it didn't exist before. So it's creating something from nothing. So that moment of creation is really exciting. And then the second favorite, maybe they're competing with each other. My next favorite would be the end. So when I finish it, and if it's a piece of clothing, I put it on the person who is going to wear it, whether it's again, a group or one person. And I see them wearing it and experiencing it and the energy that it gives them and the feeling and the confidence that feels really good. So I think it's the beginning. And then the very end. And then there's a lot that goes on in the middle. That can be rewarding, but.
Speaker 4:
It's a process.
Luly Yang:
It's a process, yeah.
Speaker 4:
And can you kind of dive into more of that initial spark you were talking about? Where are some of the different places that has come from for you?
Luly Yang:
So concepts come from everywhere. So one of my favorite ones that I did within the last, I would say 10 years, is a collection called Ocean. And I've always loved everything about the ocean. I like water and I love the creatures that live within. I think it's almost like an alien space. We don't go there. We don't know what's in there. So we actually created a line called Ocean and benefited the aquarium. So we partnered with the aquarium and we did a fashion show there and it was really, really fun. And if you look outside, there's something calming and magical about the waterfront here. And I almost feel like I'm going back in time. When I'm in Kirkland, I feel like I go back maybe 20, 30 years here and there's a calmness about it. And the soul I really like, and this is my first year here. I arrived in October and I saw the leaves change. So these are all maple trees. Every day I'd come in and I would see the change and the yellow… the green turning into orange and then the yellow and then falling off and even just without leaves is so beautiful. So I think nature in Kirkland has really inspired me. And you will see that in our fall collection, the inspiration from Kirkland.
Gina Colucci:
Hey, do you have a special place outdoors that inspires you? Head to Instagram and comment on the post for this episode.
Speaker 4:
Speaking about finding inspiration in the places that you are in being here in Kirkland and watching those leaves change. Can you give us a little more insight into the collection?
Luly Yang:
Well, one of the things that I took inspiration from more is the color. So you will see the oranges and the yellows and the greens. We muted down the green a little bit to like more of an olive green. So those are… The palette is really the maple tree palette through four seasons. And as far as style-wise, I can tell you what it's called. You'll be the first. It's called Lou Leisure. Lou Leisure. So it's it's a kind of a hybrid of resort lounge and work. So that it's, I feel like life, even before COVID, life was becoming kind of blurry between work and play and living, and now with COVID and everyone being at home and working from home, if that line is blurring even more, this is something that you can wear and lounge around and be comfortable. And then you take your dog out for a walk and you're actually not embarrassed to run into your friends from work. Or you have a last minute zoom call and you're appropriately dressed. So it's something like that. And, also when travel opens up again, it would be a great comfort travel collection that is low maintenance, low wrinkle, and easy to take care of and pack. So I'm hoping to launch that this fall.
Speaker 4:
That's exciting.
Speaker 3:
Is that Lou Leisure?
Luly Yang:
Some. Yeah, some. So we use…
Speaker 3:
Well we won't tell anyone
Gina Colucci:
This was one of my favorite moments. Lily walked us through her showroom and we got a sneak peek at some of her pieces in the line, Lou Leisure. We saw t-shirts with her signature butterflies in performance fabrics, thoughtful details in every piece and a very cool raincoat.
Speaker 4:
This is how you elevate the Pacific Northwest style.
Luly Yang:
Yeah… [inaudible 00:11:48] I want to.
Speaker 4:
How beautiful and fun.
Luly Yang:
Very fun, I think I want people to have such a fun raincoat that when it rains, they look forward to it. That's my goal. So that there's joy in rain. And so it's not just the complaint. It's actually, "Hey, opportunity to where my most favorite raincoat."
Gina Colucci:
When you look around Lily's work over her 20 year career, there's a consistent theme of underlying elements in everything. There's butterflies, and whimsy, beauty, and joy.
Luly Yang:
Usually in every collection, there's some humor in it. We'll find a couple of pieces and we'll put a little humor in it and you don't really know it's there until you really look at it or put it on. And it's like, "Hey, that's kinda different," so the humor, and then that's the joy I think you're talking about. We do that because it brings me joy to do it.
Speaker 4:
Yeah. It definitely comes through. Is there one specific example of like something that just made you giggle?
Luly Yang:
In my Passage to Shanghai collection I put these big, huge embroidered, koi fish on the back of the dress. And then I have them swimming up in different sizes up the back. And then there's some kind of here organically placed on the sleeve and coming out. So that… every time I look at that I still have, I was looking at the pictures. It makes me smile. It makes me remember the moment we did that. We were all laughing. We were laughing in the studio. And then we said, okay, well, let's place it in an elegant way. They're swimming upstream. And they're up the body. It just gives us that sparkle in the eye. And you never see a koi pond on the dress, and you never see it on the body, but here you… I think design is about putting two things that are familiar, that are never together and marrying them. And that's innovation.
Luly Yang:
It's not just because we have to invent a new fiber. Innovation to me is learning how to use the ingredients we have in a really fresh and exciting way. And in a sustainable way. With couture, I think sometimes designers tend to overdo it with bells and whistles and they just think more is more, more is better. And for me, my perspective is part of the art is really restraint, and giving the negative space. Because negative scape space helps you appreciate what's really there. And without negative space, the design cannot be appreciated. When I designed clothing I think of it as also a three-dimensional product. And so I usually turn my client and I'll turn our dress form around to make sure that the transition between all the angles are fluid.
Speaker 4:
Are you working on anything right now? I mean, the leisure, obviously.
Luly Yang:
I'm working on Lu-Leisure.
Speaker 4:
And then, is there anything else that is coming up that really excites you?
Luly Yang:
Well, I love doing uniforms, right? It's so fun. It's so much fun because it's a way for a designer to truly scale their work. And so you design a collection and then you have, I don't know, however many thousands of people are wearing it. So I'm still working on the Amazon projects, Amazon, the DSP drivers, their uniform. So we continue to update it and have new iterations of that. We're working with other hotels for uniforms. It's the same process on the design, but when you scale it, when you go to manufacturing, it's very different there versus the couture piece. So yeah. So there, you have to put on the business hat quite a bit because you have to design to cost. Uniforms have to be at a certain cost and we need to be able to do it at a certain pace and speed. So it's a very fun challenge. Very fun.
Speaker 4:
One thing that fascinates me with you is Seattle and the Pacific Northwest is known for its functional style. I guess we can call it, but you're a couture designer at heart. How does that influence maybe your designs or maybe make you want to go the other direction?
Luly Yang:
I think the approach from the… The couture approach is about, for me is about listening. And I think across the board being a good designer of any medium is about listening and it's about solving problems for human beings. So how do we make their lives better with our product? How do we make living even more enjoyable with our product? Whether it's through beauty, looking at it or wearing it or feeling it. I think with that approach, I approach it the same way for couture versus the uniform projects where we're producing massive amounts. I start with a really deep, deep understanding and listening, and that way our solution can be a hundred percent strategic. And we know that every decision we make is based on something soulful.
Speaker 4:
Can you take me through the process of designing for a client? Yes.
Luly Yang:
Yes. If it's a first time meeting them, I definitely put aside quite a bit of time because this is a get to know each other and it's a relationship. So the first half of the meeting really is about me asking questions about who they are, what they're like, what their personality is like, and what's their comfort, what makes them comfortable and what they're looking for, whether it's a wedding or the Oscars or an event that they're about to attend. And so for couture, that's what we do. We sit down and talk about what they're looking for and I get to know them and I get to know them through what they tell me, but also through just kind of what I see and how they move and how they kind of present themselves and how they are.
Luly Yang:
I really like this part of it. The human aspect of it. Getting to know someone. And then the next is me offering some solutions. I'll usually have my sketch pad or I'll have my tissue paper and I'll just sketch it. I do both electronic and by hand. And I might pull fabrics from my sewing room. I might pull dresses that are close to it to inspire from. And then we do the sketch. And usually I share those with the client. It's a very interactive process. They would respond and then we would approve.
Luly Yang:
So that's kind of the end of the first meeting.
Speaker 4:
That's all in one?
Luly Yang:
That's all in one. That's all in one. Sometimes if they have more time, I would drape the fabric on them. If it's a draped piece of material that's what they want. They would stand up and I would drape on them. Like I do on a mannequin. Then we set up a fitting schedule and there's usually two fittings till completion. Two and a half would be average. When they come back, they try on the garments. Usually 80% finished, we don't finish at all because we still want to fit in. And then they come back for the second one and then we complete the garment and then the final one, they take it and we get beautiful pictures and stories afterwards, which is really rewarding.
Speaker 4:
I know. I mean, you're obviously very well known for your wedding dresses, but for, you mentioned an Oscar gown or a big event gown. Is there one in particular that stands out in your mind in that creative process?
Luly Yang:
I think the best ones are the ones that are really out of the box that are unexpected. I did one for the Oscars. That is a Monarch by Night. So it's my Monarch, but it's what the colors would look like at night. And it's actually, I made it a, more of a aubergine and gray. So it's like what it would like, I imagine, if we didn't have sight of color and there was no light. That's a beautiful dress. I love this one. It has satin faced organza, ruffles that cascades down the back, and then it starts in the front and it kind of meanders around the body and then cascades down the train. I love that one.
Speaker 4:
It's a piece of art.
Gina Colucci:
As I was sitting there a dress form in the corner caught my eye. It looked special. Like it had its own stories to tell. It was not like your normal dress form of, where you could stick pins in it. It was made of metal and different pieces of metal kind of put together. And Lily had placed a beautiful necklace around it. And I was just wanting to know more.
Luly Yang:
I went To Paris to the premiere vision, textile show, and I was walking in this little alley and I saw this dress form shop and they had all these different kinds of display, dress forms. And I bought three and I was like, how am I going to ship this? I was like, I don't care. Look at this. So cool. It looks like a whole airplane. Isn't that cool? It's very cool.
Speaker 4:
Oh you had your name engraved on the…
Luly Yang:
Yeah. So it came from Paris. It was more than, yeah, just right before I opened my studio and then I had a really curvy pink one and pink satin. And then I had a turquoise one, but this outlasted, the satins because it's been 20 years. So this is so beautiful. I love her. So this marks the beginning. So this in the butterfly dress.
Gina Colucci:
Inspired Design is brought to you by the Seattle Design Center. The show is produced by Larj Media. You can find them at larjmedia.com. Special thanks to Meechie Suzuki, Lisa Willis, and Kimmie Design for bringing this podcast to life. For more head to Seattledesigncenter.com, where you can subscribe to our newsletter and follow us on social media. Next time on Inspired Design, LaNesha DeBardelaben shares the important history of our city from her favorite spot, the Douglass Truth branch of the Seattle public library.
LaNesha DeBardelaben:
Well, there are just so many gems of cultural literacy. It's not just the books that are on the shelf here that enrich us.