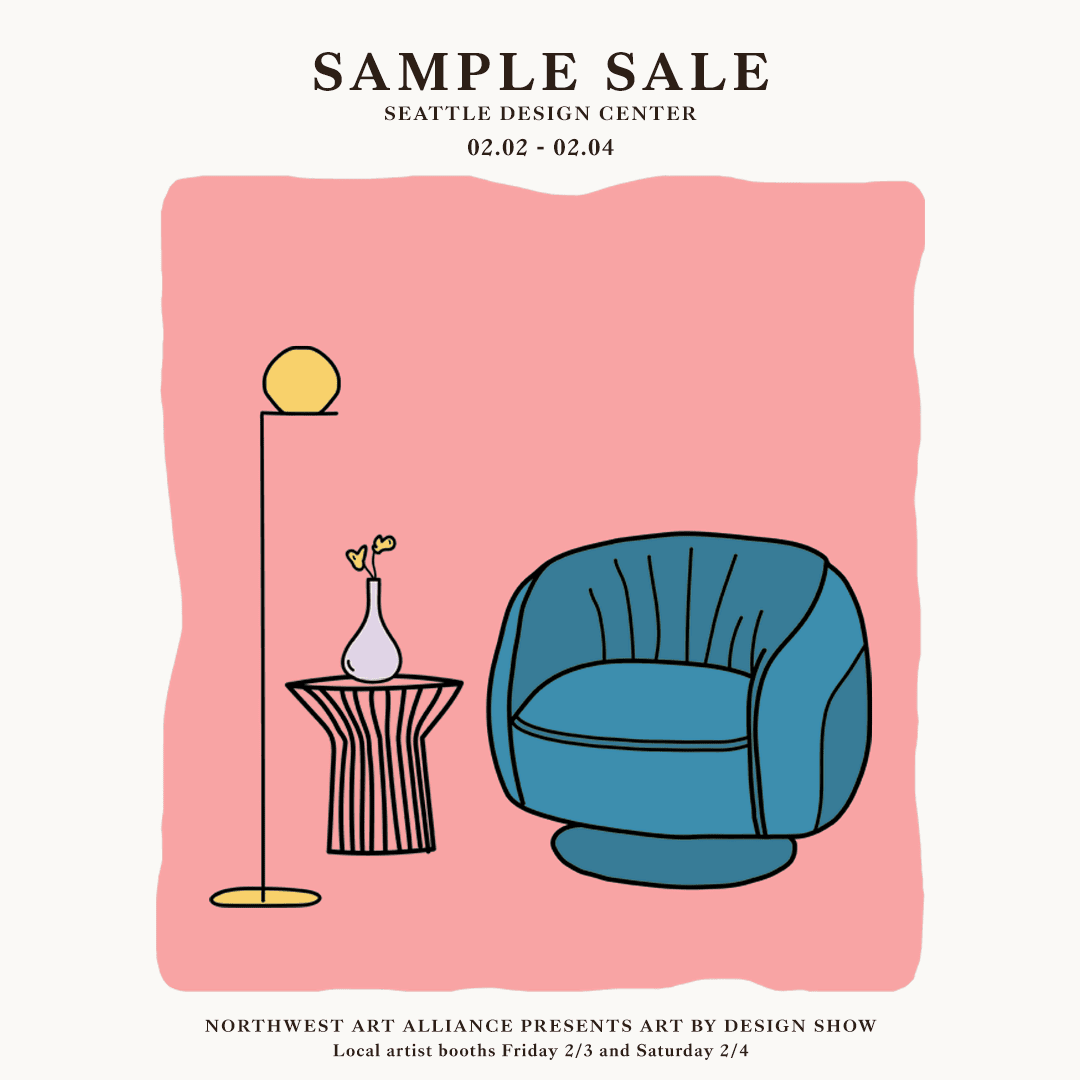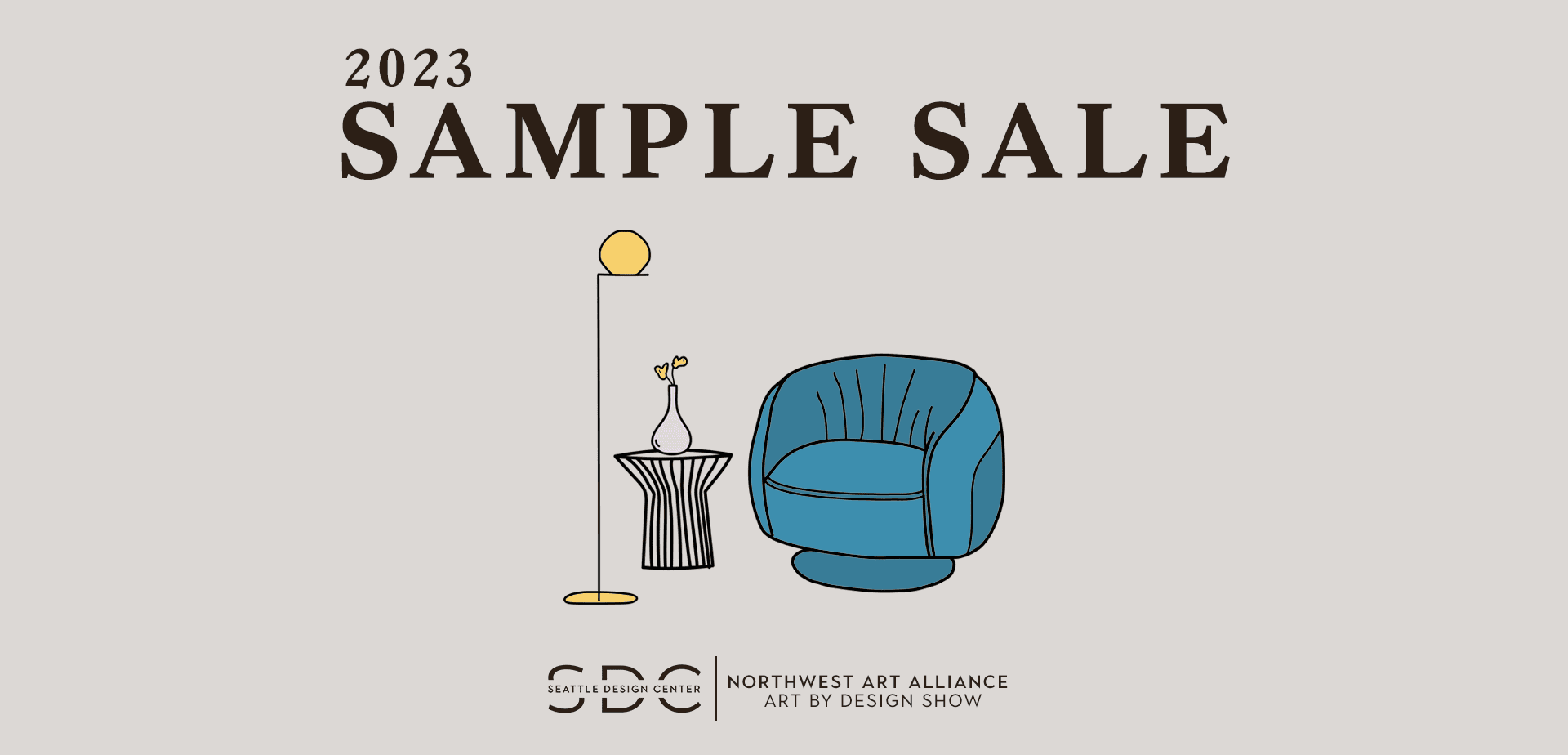 This year, we are partnering with Northwest Art Alliance. Come shop participating showroom sample sales and see art from 45 local artists!
February 2nd -4th
(Artists Booths only available Feb. 3rd – 4th)
*Atrium Cafe Seating area will be closed from Feb. 2-4th for the Sample Sale*
See below for the full list of participating showrooms and artists.
Participating Showrooms 
Baker | McGuire

DFG
Plasteel Frames & Gallery
Leflar LTD.
Andonian Rugs
J. Garner Home
Resource Furniture
William & Wayne
Heritage School of Interior Design (Friday, Open House)
Participating Artists 
Business Name
Website or Social Media
Rock/Paper/Scissors
www.facebook.com/profile.php?id=100066713017906
Elena Mosko Art
elenamoskoart.com
Alyson Storms
www.alysonstorms.com
Nina Alderete
www.instagram.com/ninaaldereteart/
Brooke Borcherding
www.brookeborcherding.com/
ROSS
www.rosscollado.com
instagram.com/rosscollado
Lisa Sweo Eul Art
www.instagram.com/lisa_sweo_eul_art/
Blu88 Art Studio
www.blu88art.com/
Michael A Knutson
makpaintings.com
Art of Laura Koppes
 www.etsy.com/shop/ArtofLauraKoppes
Matthew McClosky Fine Art
mattjazz123.com
Claire Parrish Art
www.claireparrishart.com
JULIE SIMPSON ART
@julieclendenensimpson
julie.c.simpson.58@facebook.com
Laura Van Horne Art
www.lauravanhorneart.com/
Rav K Studio
www.ravkstudio.com
Gall's Gallery
www.Gallsgallery.com
5 Lines Pottery
www.5linespottery.com
Larry Richmond Pottery
larry@larryrichmond.com
Flora Felts
www.florafelts.com
www.facebook.com/Floranemez
Originals By Angela
Artfrica Presents Originals by Angela
Laughing Cloud Studio
www.laughingcloudstudio.com/
moltwear
etsy.com/shop/moltwear
instagram.com/moltwear
THE BAG LADIES OF SEQUIM WA.COM
THEBAGLADIESOFSEQUIMWA.COM
Doda Designs
www.dodadesigns.com
Art By Lael
artbylael.com
Coella Glass
www.coellaglass.com
Sunshine Glass Gifts
www.sunshineglassgifts.com
Kathleen Baker Metalwork
kbakermetalwork.com/
Blue Ice Design
www.blueicedesign.com
Jenny Foulkes Jewelry
www.jennyfoulkesjewelry.com/
www.instagram.com/jennyfoulkesjewelry/
Bad Bee Jewelry
badbeejewelry.com/
www.facebook.com/BadBeeJewelry
Karen Klinefelter Studio
www.klinefelterstudio.com
Magpie Mouse Studios
www.magpiemousestudios.com/
Upswings Jewelry
www.facebook.com/plonneke
www.instagram.com/upswingsplonneke
Dwiggins Illuminations
leather.dwiggins.com
Luther Leather
www.Facebook.com/lutherleather
Sunshine & Rain
www.sunshineraingoods.com/
Graham Schodda – Stainless Steelheads
www.stainlesssteelheads.com
Ian Brandeberry Photography
www.ianbrandeberryphoto.art/
Fretta MM Cravens Photography, LLC
fcravensphotos.studio/
Frimodt Photography
www.frimodtphotography.com/
Rosalind Philips Photography
store.rosalindphilipsphotography.com
Uli Kirchler
ulikirchler.com
Cedar Street Design
cedarstreetdesign.com/
John Harden Design
www.facebook.com/profile.php?id=100006150587823
Mt. Hood Craft
www.facebook.com/MtHoodCraft
Ron Purvis Art
www.instagram.com/ronpurvisart/
Barry Roitblat
barry.roitblat.com