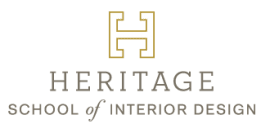 INTERIOR DESIGN INSTRUCTOR
Seeking a Part-time Saturday Interior Design Instructor for a Private Occupational School, offered under an independent contractor agreement for approximately 10-13 hours/week.
About Heritage School of Interior Design
Heritage School of Interior Design prepares students for a career as an interior designer. The primary course offered at the school is the Fundamentals of Interior Design Program. Through this program, students develop an extensive knowledge base which empowers them to work in the Interior Design industry. Projects include the full design and presentation of two residential spaces. This program puts equal focus toward core design knowledge, design expression and business practices that together enable students to become successful industry professionals.
The school has a very strong culture and all team members are flexible, personable, open-minded, passionate, encouraging, supportive, caring and a team player.
Vision: To empower the creativity of aspiring interior designers with a quality, hands-on education to achieve personal growth and professional success.
Values: Empower the success of others, pursue growth and learning, be creative and open-minded, be passionate and determined, have the courage to change course, be humble and collaborative.