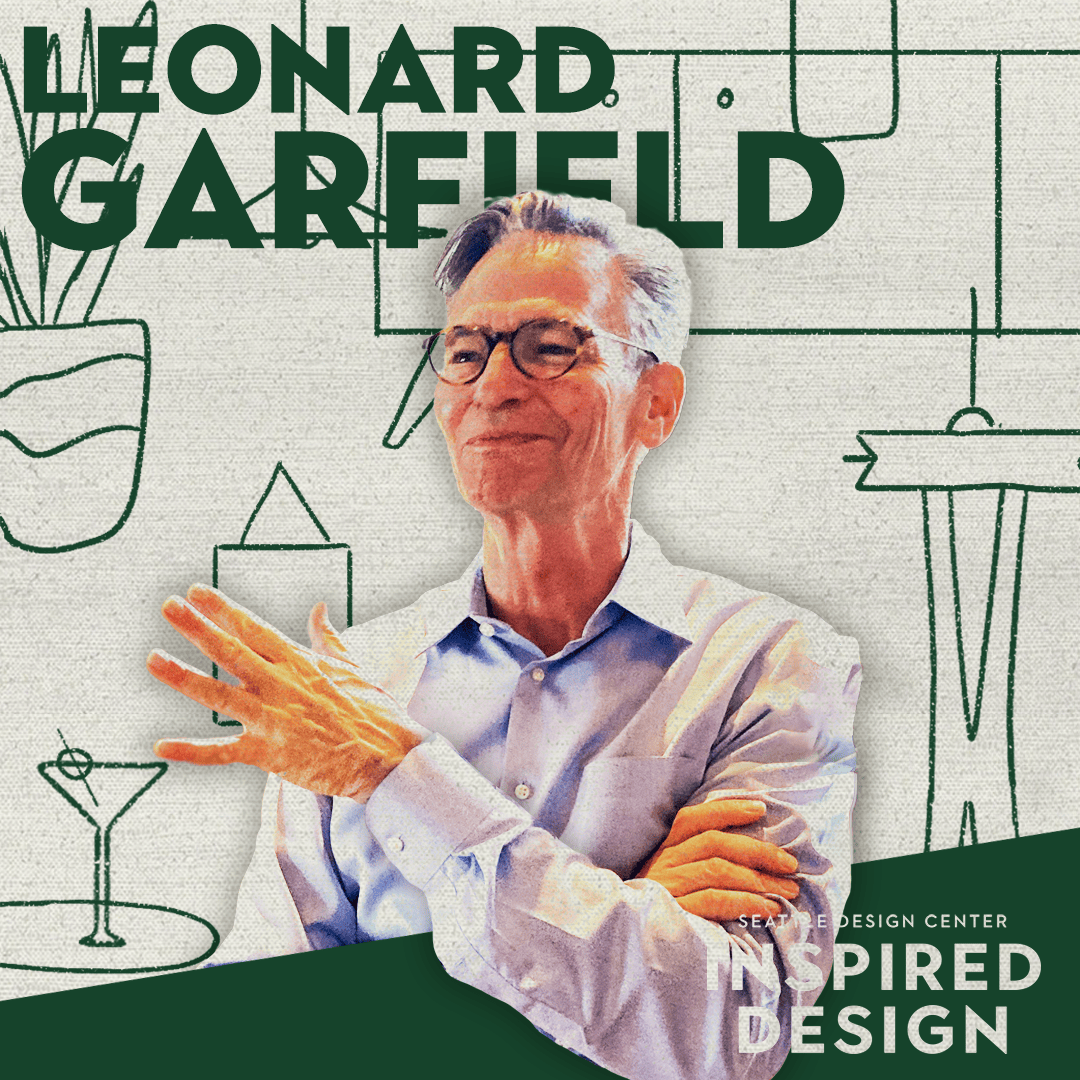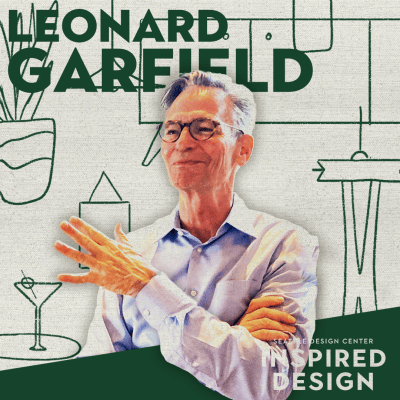 Leonard Garfield | Magnificent MOHAI
In this episode of Inspired Design, explore the MOHAI (Museum of History and Industry) with Executive Director, Leonard Garfield, a true walking encyclopedia. His knowledge of Northwest history beautifully compliments his contagious passion for architecture. We also learn how a few key individuals laid the groundwork for the flourishing tech hub Seattle is today.
Listen on your platform of choice
[abcf-grid-gallery-custom-links id="4517″]
Episode Transcript
Leonard Garfield:
People of all ages come in here and they listen and they reflect on who we are, where we are and they ask themselves what's this all about, which is what we want. We want people to be curious.
Gina Colucci:
This is Leonard Garfield, the Executive Director of Seattle's Museum of History & Industry. He is like an encyclopedia, he knows so much about local history and has seen just about everything during his 20 years as the head of MOHAI.
Leonard Garfield:
One of the ones that we've always been curious about is an artifact from the 1962 Seattle World's Fair called the Bubbleator.
Speaker 1:
Please step to the rear of the fair. We can only accommodate 100 of you essentially at a time.
Leonard Garfield:
That was the elevator that went up and down in what is now the center house and it's this really cool kind of little pod that would take you up and down, seemed very futuristic at the time. When the fair ended, it ended up in someone's backyard, where it served as a kind of terrarium filled with plants and so forth. And we were called out to take a look at, to see if we could maybe persuade the owner to donate that to the museums.
Gina Colucci:
I'm Gina Colucci with the Seattle Design Center. Every week on Inspired Design, we sit down with an iconic creator in a space that inspires them. What you just heard is one of many stories that Leonard told me as we explored the museum. The building itself is an icon in South Lake Union, but it also keeps all the stories from Seattle's past, from the obscure, to the historic.
Leonard Garfield:
Well, come on this way. Gina, I don't know if you know this, but this is a historic armory building built during World War II where thousands and thousands of Navy recruits would practice for the war. It actually is designed like a battleship. This building was to simulate a ship because the guys who were training here were actually going to go into combat in the Pacific. There are parts of this building that look like the bridge of a ship, there are places that folks could practice all the skills they need for war.
Gina Colucci:
Leonard, do you want to tell us a little bit about the remodel and move of MOHAI?
Leonard Garfield:
Yeah. It's and you know, Gina, it's been in about 10 years. We opened up here at the historic Naval Reserve Armory, the building we're in right now in the late, late fall, in fact, December 29, 2012, so almost 10 years and that's exciting. We used to be located closer to the University of Washington in a building actually designed by a well known Seattle architect, Paul Thiry back in 1952, but it really was… We'd outgrown it. Really, it was time to move, but more importantly, 520 needed to be wide and then it came right through our museum, so we had to move and we came down here.
Leonard Garfield:
Naval Reserve Armory was never meant to be a museum. It has huge open spaces where there are rooms. The ceilings are very low, lots and lots of windows and museums hate windows, but we decided, let's just preserve all that. Let's keep the great atrium. Let's keep the historic floor where the guys used to drill. Let's leave all the windows around it and just find other ways of showcasing the artifacts and telling the story of Seattle history. The remodel was a big project. We opened up about 10 years ago and we've been going great guns ever since, but I think our biggest artifact actually is the building itself and we totally were committed to saving the historic character. Despite all the exhibits and the kind of fun stuff, that's in here now, the bones of the building still really shine. And I love like when you look at the Seattle skyline from Lake Union, you see the MOHAI in sort of in the center, all gleaming and white.
Gina Colucci:
Our tour starts with an artifact that's rich in Seattle history. Tell me about what we're standing next to.
Leonard Garfield:
What are we standing next to. Well, the building was to train Naval people, but actually, there's a lot of maritime history here. And this is probably the most remarkable artifact we have just about. This particular piece is called the Wawona. It's a gigantic 64-foot sculpture by the Seattle artist named John Grode. He's a very important… very large scale environmental artist. What does it look like to you, Gina?
Gina Colucci:
It looks almost like the trunk of a tree.
Leonard Garfield:
Exactly. It looks like a 65-foot tall tree, and here's what's remarkable about it. It's actually hanging. It weighs 11 tons and what it is, is it is the remnants of a tall masted sailing ship from the 1890s that used to be moored right out here on Lake Union. You know what that ship did? It carried lumber, of course, in the Northwest, from our great forest. The ship had deteriorated over a century and eventually had to be dismantled, but John and a team of dozens and dozens of artists worked to save the remnants of that boat, planks from the hull, pieces of wood from throughout the ship and to reconstitute it as an enormous sculpture, it was a ship made of wood and the artist's thought was let's have it return to nature. Let's have it go right back where it started, which was a tree.
Leonard Garfield:
Those nodules that come out or almost like the roots of a tree, or they could be the barnacles on the hull of the ship, because in a way, it's both things. You can actually… Let's go this way because you can push it and you can go inside it. And if you… Can you hear the sound?
Gina Colucci:
It almost sounds like a ship.
Leonard Garfield:
It sounds like the hull of a ship. And if you go inside, are we allowed to go inside? Gina, come on, let's walk inside.
Gina Colucci:
Okay, let's go.
Leonard Garfield:
This is so cool, because if you look down here, you're looking at Lake Union. This sculpture actually continues below the water line and if you look up, there's a hole in our roof, a little oculus that connects you to the sky. This enormous tree that he crafted from a ship, now connects the sea to the sky and it kind of reminds us that history is all about making those connections.
Gina Colucci:
Wow.
Leonard Garfield:
Is this amazing? It's called the Wawona.
Gina Colucci:
It's fascinating.
Leonard Garfield:
It's fascinating and it's absolutely breathtaking. And people of all ages come in here and they listen and they reflect on who we are, where we are and they ask themselves what's this all about, which is what we want. We want people to be curious.
Gina Colucci:
This is… piques that curiosity, definitely.
Leonard Garfield:
We could go out this way. What should we do next?
Gina Colucci:
Well, I know that since we're here, there's a giant, well, plane in the middle of the building.
Leonard Garfield:
Oh my gosh. All right.
Gina Colucci:
I don't know if you noticed.
Leonard Garfield:
I did notice that. And it's about to land on us. What have we got to do? Well, here's another thing. And it all kind of ties together. That giant plane, which is the very commercial airplane ever made by anybody, it's called the Boeing B-1, Boeing's first plane. And he made it from Northwest lumber, of course, but what's so cool about it is it was really in the early days called a flying boat because it was fashion crafted by maritime craftsmen by actually the folks who made boats right out here on Lake Union.
Leonard Garfield:
I don't know if you've heard of those great boat makers, the Pocock brothers, but you might have heard this book called The Boys Who Rode… what's the book called?
Gina Colucci:
The Boys in the Boat.
Leonard Garfield:
The Boys in the Boat. Thank you, Gina. You got it. George Pocock, he made the hull of that plane. Bill Boeing said that George Pocock, he makes the most beautiful vessels… make a beautiful vessel that flies. And so, he crafted the fuselage. The women who made sails actually made the wings of the airplane and he decided that he wasn't going to fiddle with landing. He was just going to take off from water and land on water, so it went from Seattle Lake Union to Victoria, landing in the Victoria Harbor. And it was the first commercial airplane. It carried mail. It was the first international airplane. It went from the U.S. to Canada. And it's just so emblematic of our Northwest because it is wood, it is maritime craftsmanship, and it takes advantage of the fact that we can land on water and take off from water and not worry so much about these tricky hills.
Leonard Garfield:
But here is one other thing, if you look at the engine there that actually propelled the plane, that was engineered by a very young guy, he was about 20 years old and his name was Wong Tsu. He was from China. He was an aeronautical prodigy. Somehow, Bill Boeing had discovered this young man. He recruited him from China, put him through MIT. And when he was fully educated and this brilliant, brilliant young man came to Seattle and he worked with Boeing and with George Pocock to make the plane fly. The very first aeronautical engineer in the United States was from China.
Leonard Garfield:
He stayed with Boeing for a couple of years, got the company off the ground, went back to China and founded the aviation industry in China. And today, if you ask a school kid in China who's Wong Tsu, they'll know, because he was the father of Chinese aviation, but he was also the father of American aviation, but we sometimes forget that, but what a wonderful story of what an international community we are and that great innovations like this take craftsmen of the old traditions like the boat builders and brilliant new minds who may come from anywhere in the world, and in a way, isn't that what Seattle's about even today?
Gina Colucci:
Absolutely. And what's also fascinating is that as a first U.S. mail transport, and this also being the home of a giant company, that it's kind of-
Leonard Garfield:
I forgot about that. It's such a great point. Where would Amazon be if it weren't for planes like that going all over the world and getting you those products instantly? It all started right here in Lake Union back in 1919 is when that plane took off. Can I tell you very quickly though, that the very first truck of UPS, another great partner of Amazon, is in our collection? Because UPS was founded in Seattle. Did you know that?
Gina Colucci:
I did not know that.
Leonard Garfield:
There was a young bicycle courier, bicycles were brand new in the early 20th century, Seattle was growing a support and in the gold rush days, people wanted to get down to that port real quickly, because they wanted to get their stuff either from Alaska or to Alaska and a young guy decided he was going to do a delivery service on a bicycle. And his name was… I'm going blank on his name momentarily. What was our friend who founded UPS? I am blanking on our friend's name. UPS founder, he was a young kid. He was like 17. James Casey, Jim Casey. He was a 17-year-old. He founded UPS. Years ago, it moved out of Seattle in terms of the corporate headquarters, but it's so fun as you pointed out to think that all that way of getting products around the world, it began here and getting those products around the world is still here in a really big way.
Gina Colucci:
And so, you said you have the UPS truck.
Leonard Garfield:
We do.
Gina Colucci:
Where is it?
Leonard Garfield:
Like many museums, the word in storage is frequently used. We have 4 million things. Lots of them are photographs or archival elements, but we have hundreds of thousands of three dimensional objects including the UPS truck. And so, it has been on display actually right where we're standing a few years ago, it'll come back on display, but museums are very protective about bringing things out in display too long because the environment, the light, people sort of never touching them, but they think about touching them and that alone causes them to deteriorate because sometimes they do touch them. The truck is resting right now in storage at the MOHAI Resource Center. Gina, our resource center is in Georgetown. It's as big as this building. It's that big because we have so many things.
Gina Colucci:
I think your Resource Center is actually very close to the Design Center.
Leonard Garfield:
I think you are absolutely right. It is exactly one block south of the Design Center. And isn't that cool too, because I would love someday for the design center folks and the MOHAI folks to get together and look at historic designs because we have a very significant furniture collection. We have a huge decorative arts collection and we have 10,000 garments that are absolutely amazing, wedding gowns to bathing suits, to everything in between.
Gina Colucci:
And the Design Center's The largest supplier location of textile choices in the Pacific Northwest. Just thinking about that and that history is fascinating.
Leonard Garfield:
Let's do that. I really want to do that partnership. You heard it here, because the design history of the Northwest is really, really important and there's some great names, Jack Lenor Larsen. I won't go into all the names, but I know you guys at the Design Center are familiar with them that really did innovate, especially after World War II.
Gina Colucci:
We're talking about the Jack Lenor Larsen, a Seattle born textile designer, innovator really, who was at the top of his professional game for decades. He did tons of commercial work, but his fabrics can be found in the collections of the Museum of Modern Art and the Louvre, hey, and even the Seattle Design Center. Another local tie in for you, it said that Jack convinced a young Dale Chihuly to give up weaving glass and to try blowing it instead.
Leonard Garfield:
There have been quite a few important designs that have come out of here, including some important artists. That's my next stop. And see, we're doing a very easy tour because we don't have to ever move away. It's right there. It's a gigantic picture that you see on the wall. And I can tell you where you can see even more of those, but-
Gina Colucci:
I was going to say it's very familiar.
Leonard Garfield:
It does look familiar because you know what? It's WPA art, Work Progress Administration. That was the program during the great depression in the 1930s that put everybody back to work, but it also put artists back to work, but artists were asked to do artwork that reflected other people working. This is a mural called the Men Who Work the Ships. It is designed by Kenneth Callahan. Kenneth Callahan is a very, very important Seattle artist who was particularly prolific in the '30s, '40s, and '50s.
Leonard Garfield:
And if you look at that, you actually see the working labor force of Seattle during the depression doing one of our core industries, which is making sure that all the vessels that came in and out of Seattle were in good repair. What I love about this particular painting is you really are seeing people at work. They're working on repairing boilers and other aspects of the engine room of the ship. And you see a little racial diversity there as well. And it's important to remember that in the Seattle workforce, there were people from all over the world. There were Black people, white people, Asian people, Hispanic people, native workers as well.
Leonard Garfield:
And not many artists captured that because regrettably, artists were encouraged to paint the world that they thought their patrons would most appreciate, but Kenneth Callahan stepped beyond that. He said, "I want to paint the world as it is." He went down to the waterfront. He went into the engine room of these great vessels and he saw these guys just sweating and working from all over the world, working together to get something done. And that was the spirit that President Roosevelt wanted to really embody when he asked these artists to join the WPA. That particular mural is one of his series and the others you can see at the Pacific… What do they call the building now on Beacon Hill? It was Amazon for a while, Pacific Health Center.
Gina Colucci:
I think it's Pacific Health Center. I went right by it. I'm convinced it's [crosstalk 00:15:30] but that's a different story.
Leonard Garfield:
Next time you go home, if you go there, still that way, go into the lobby. There's a whole series of those murals that MOHAI restored and donated back to the… because that used to be the Marine hospital where all the guys who worked in the maritime industry would get their healthcare. They were originally designed for that building. They'd been at MOHAI for a number of years. We restored them and sent some of them back to their original location, which is kind of cool.
Gina Colucci:
I mean, that is also kind of an iconic building. You're driving south on the five and I should say I-5, but-
Leonard Garfield:
Don't get California on me.
Gina Colucci:
As you're driving south on I-5 and it's up on your left hand-side and it kind of glows and it's like an-
Leonard Garfield:
It's Art Deco. It's Art Deco. It's probably… You're so good, Gina, in identifying that. It's probably the best Art Deco building in Seattle, maybe the whole Northwest. It's just this beautiful orange mountain as if it were rising up echoing, of course, Mount Rainier, which was such an inspiration to artists and architects of the 1930s. The building is also a WPA building as were the murals. They were all done as a piece.
Gina Colucci:
That's really… I don't think you see many buildings that have art done at the same time.
Leonard Garfield:
Very few. And that wasn't… Again, to the design center, we all know design is holistic, right? I mean, it can be the spoon you use to eat your breakfast. It can be the way you do your garden or the car you drive and it's really the way we work and live. And that holistic view of design was the spirit of the WPA that work was of value and design and work were really complimentary parts of the same whole, not in contradiction to each other.
Gina Colucci:
It's a beautiful perspective. I love how you put that.
Leonard Garfield:
It's a really cool painting because it's very heroic. The figures, it's a series of about 10 guys working in the engine room, the boiler room of a great big ship. They're down in the bowels of this big engine room and they're very muscular guys. Kenneth Callahan liked a lot of muscular guys. They'll be [crosstalk 00:17:31] exactly. He was not shy about. He actually was a gay artist. He was pretty openly gay, I guess he was. I don't think any of his family's living so if I get in trouble for saying that, but it is quite known that he was. And so, there's a kind of sensuousness to the figures, which is… but it really was a celebration of muscularity and the muscularness of labor, whether it was women or men or whoever it was, it was the notion that there's a kind of fluidity and power and strength. That's much like the forms we admire in nature.
Leonard Garfield:
We can admire that in our own work and our own labor as well. And so, you see that at work here. The guys are dressed in probably the most casual, rough and tumble garments, jeans, the kinds of stuff you'd actually see. And all of their faces are turned toward their work. He's really not asking us to celebrate the individuals as much as he's asking us to celebrate the bodies in motion with the machine and the title of the work is the Men Who Work the Ships. And so, I think the men become really part of the ship and really, they're celebrated as doing that really tough, tough work.
Gina Colucci:
You can kind of see the similarities of this very strong internal vessel to their strong hardworking bodies.
Leonard Garfield:
You're so right. Look at the curves of the pipes and the sides of the walls. They're sinewy and they're curved much like you're right, just like the musculature of the figures. There is very much a… They're reflecting back to each other.
Gina Colucci:
And the color palette too is natural, but earthy.
Leonard Garfield:
It's very natural. It's gritty. It's earthy. It's like steel and strength, nothing flashy. And again, it all becomes one piece, really. The colors of the men and the colors of the ship itself are very much integrated.
Speaker 2:
Seattle Design Center is the premier marketplace for fine home furnishings, designer textiles, bespoke lighting, curated art, and custom kitchen and bath solutions. We are located in the heart of Georgetown, open to the public Monday through Friday with complimentary parking. Our showroom associates are industry experts known for their customer service. We are celebrating new showrooms and added onsite amenities. Visit seattledesigncenter.com for more information about our showrooms and our Find a Designer program.
Leonard Garfield:
That is the original R. Now, you got to remember it, Gina.
Gina Colucci:
I mean, I've-
Leonard Garfield:
Picture it, if you will. There's a fake… No, there's a replica R on the freeway today. When you go south or north on I-5, you do see it, but that's the original put up there shortly after World War II to herald the Rainier Brewery, everyone's favorite beer in Seattle. Here's the funny thing about the sign. When we did dismantle it to take it down to preserve it, we noticed not only that we had the beautiful neon and all this little light bulbs, which light up if you turn a switch there, but it also had about 10 bullet holes in it. Apparently, it was an attractive target practice for passing motorists which kind of, I must tell another side of the story here, but that's part of its history as well.
Gina Colucci:
Don't try this at home, kids.
Leonard Garfield:
Yes, do not try this at home. Another fun sign that we have on display is the All Roads Lead to the Dog House. And for real old time Seattleites, they'll remember the Dog House Restaurant. That was the all-night diner you'd go to with the kind of rough and tough waitresses and you'd get your cup of coffee. They keep you going, lots of folks coming in from the bars or folks working the late night shift and just a beloved restaurant. When that sign had to be removed, it came here. We are quite the repository of historic signs. And our most recent is the pink Elephant Car Wash sign. Gina, if you've got an idea of where we should put that in its new home, right now, it's being restored. It will be ready one of these days and we're going to locate it somewhere.
Gina Colucci:
Our tour ended. We sat down to talk more history, Leonard's true passion. We talked a lot about historic design in Seattle and what themes, design, spaces, lessons seem most relevant to us today in your opinion?
Leonard Garfield:
I think if I were to think about Seattle design, I think there are a couple of things that come to the forge you look at historically. One is respect for the natural environment. I think our natural setting has really inspired our design, whether it is in our fabrics, our clothing, and we think of Eddie Bauer or Filson or REI or in our architecture, and The Northwest School of Architecture really paid great sensitivity to the use of natural locally sourced materials.
Leonard Garfield:
I think a respect and an understanding of nature and being open to that, recognizing that we live in nature, I think that's hugely important. I think our location on the Pacific rim has been important. I think the influences, particularly from Asia, have been extremely important in our design, our architecture, our art. And then I think that in the Northwest and in Seattle in particular, there is an authenticity, a lack of pretentiousness, a lack of hierarchy, this kind of accessibility that everybody's on an equal playing field, and we all have something to contribute. I think that spirit, as opposed to a spirit that's very pretentious or exclusive, I think that approach of embracing everybody is very key to the Northwest design aesthetic.
Gina Colucci:
What's something that you hope architects and builders and designers keep in mind as they're creating and planning new spaces for us Seattleites?
Leonard Garfield:
Boy, that's such a good question. What I always appreciate is when an architect or designer thinks not just about their work, but thinks about the work around them. I love context. I love people who design to fit into a larger fabric, whether it's an urban fabric or whether it's just a specific design palette or opportunity. And I think that where Seattle does best, and sometimes this is our most modest stuff is when we build in harmony with the setting and with the neighbors and with the neighborhood. I think we're… sometimes we don't have a distinguished stuff is when we build something that's completely disrespectful or not paying much attention to the surrounding neighborhood. And I think all great designers are always cognizant of the larger context.
Leonard Garfield:
I'm loving all the glass that's going up in Seattle. I love the glass because it reflects the sky and we have such a great sky here. In the middle of the summer, as we're experiencing now, it's just a brilliant sky with fabulous sunrises and sunsets, but through much of the year, it's that misty haze that we have that we just kind of love because it's so wonderful and refreshing. And I think all the new glass buildings do a good job of reflecting that. I like that. But I do agree that those craftsman buildings, whether they're bungalows or whether they're the more formal arts and crafts, English revival style buildings, because they do hearken back to the use of materials and to the natural setting.
Leonard Garfield:
I do think that's a special asset that we have, but also, Pioneer Square. I mean, sometimes we forget that the stones, particularly the Romanesque revival architecture from Pioneer Square, there aren't many places in America that have so many blocks of basically intact historic architecture from the turn of the last century. And I think we sometimes take that for granted because it's been a number of decades since we really had the movement to save that.
Leonard Garfield:
Oh, and then speaking of saving, we have to save Pike Place Market because it's just so special. And why is it special? Not because it's fancier because there's anything from a design standpoint that stands out, but because it's so authentic and it's so accessible and it's a kind of design that really is about how we live and use spaces, how we exist in spaces as opposed to how spaces land on us. And so, I'd say Pike Place Market is just a great amazing treasure for Seattle.
Gina Colucci:
I couldn't agree more. Can you go into depth a little bit about or comment about the stone and being one of the largest collections of it in…
Leonard Garfield:
Pioneer Square, I'm not sure how many blocks it is, but it's many blocks. It's on the very site where Seattle burned down. Seattle was largely a wooden city until 1889. In the summer of that year, they had a dry spell just like we have a dry spell now. And there was an accident and a building caught on fire. And before you know it, basically the whole of downtown Seattle was burned down. When they rebuilt, they decided we're going to be smarter, we're going to make it fireproof. And so, they built in stone and that coincided with the movement in American architecture of the so-called Romanesque revival, which was taking huge blocks of stone in all cases locally sourced, sandstone for the most part from places like Tenino and places like Pierce County. And they bring these huge blocks in, sometimes they'd work them and form them on the outside and the ornament would be carved into the stone, so it was very much organic and coming from it.
Leonard Garfield:
And they would only go up X number of stories because stone is a heavy material and this predates the elevator or the reinforced steel architecture that will allow you to go very high. It gave the city almost an instant sense of monumentality and almost an instant sense of age. Even if they were brand new, they were so massive and heavy and ponderous that they seemed like suddenly we had an instantly old city happening in downtown Seattle, but it was quite an architectural marvel. And it was published… As the billions were going up, they were published in New York architecture magazines. It's really an example of the best commercial work of the day.
Leonard Garfield:
And pretty much between the fire in 1889 and the turn of the century, say, in 1900, the entire Pioneer Square was built. If you can imagine the whole city rebuilding in a completely new design aesthetic and we talked about the harmony of buildings, all those buildings harmonize with each other. They're all the same color. They're basically all the same height. They use a lot of the same design vocabulary because people understood that they weren't building just for themselves, they were really building an environment for people to occupy.
Gina Colucci:
Wow. And I'm guessing you probably have some of those publications.
Leonard Garfield:
We do in our library. Gina, we have a library filled with thousands of historic documents, everything from city directories to corporate records, to diaries and letters, to magazines and newspapers and lots and lots of historic photographs. If anybody at the design center anywhere is interested in researching the history of design in Seattle or particular buildings or neighborhoods, a good first step would be to the MOHAI library and you can find how to get information on that by just going to our website, mohai.org.
Gina Colucci:
That's amazing tip right there. And one last question, what's one story that really inspired you along the way?
Leonard Garfield:
The story that inspires me the most is actually the story of the cleaning up of Lake Washington. Back in the 1950s and well before that, the lake was becoming very polluted. It wasn't safe to swim. It wasn't safe certainly to catch fish or eat them. People who had taken this wonderful resource for granted were suddenly discovering that it was toxic. And rather than waiting for there to be an environmental calamity where the lake caught on fire as happened elsewhere around the country, or not waiting for a court order where it was mandated you must clean this up because all kinds of suits were filed, smart civic leaders all around the lake from the City of Seattle and from the dozens of suburban communities all got together and not just the political leaders, but volunteers and middle class folks and school teachers and lawyers and people who really cared and said, "Let's get together and clean up this lake."
Gina Colucci:
A little more background. In the 1950s, locals called Lake Washington, Lake Stinko. Surrounding cities had dumped raw sewage into the lake for decades. That ended in the early '40s, but left the lake polluted and smelly. Sewage was handled mostly by individual cities, but we needed regional planning and cooperation to make any big improvements to the lake's water quality. King County voters approved the creation of Metro in September 1958, but it had not been a sure thing. It was first on the ballot in May of that year and didn't pass. Then there was a huge public education campaign over the summer led by volunteers and passionate citizens, like Leonard mentioned, and this is what convinced voters that we needed to spend the money and clean up the lake.
Gina Colucci:
Metro created a legal entity that could spearhead a regional approach to sewage management and divert it from the lake. It was a big project that lasted about a decade. By 1971, Lake Washington's water was more transparent than it had been since 1950.
Leonard Garfield:
And the cleanup of Lake Washington was such a massive environmental undertaking, but it was all initiated by just regular people in Seattle who said, "We can do things smarter and we can do things better. We don't need a big philanthropist to come in and solve our problems. We don't need the government to tell us what to do. We can do it ourselves." And that sense of self-reliance, which we sometimes call the Seattle spirit, that's what inspires me. And I think if we take that attitude that we can build the city we want, we have the power to do it. We just have to get together and do it and Seattle's never shied away from a smart idea. We can look to the past for those kinds of inspiring stories and tackle the challenges we have now.
Gina Colucci:
Inspired Design is brought to you by the Seattle Design Center. The show is produced by Larj Media. You can find them at larjmedia.com. Special thanks to Michi Suzuki, Lisa Willis, and Kimmy Design for bringing this podcast to life. For more, head to seattledesigncenter.com, where you can subscribe to our newsletter and follow us on social media. Next time on Inspired Design, we meet up with Louie Gong at his eighth generation store in Pike Place Market.
Louie Gong:
It's crazy to think that in 2016 when the store opened, it was the only native store in the entire city of Seattle. The native origins of this region are used in the branding of the city all over the place and yet the actual participation of native people in commerce for people visiting Seattle was almost nothing.
Gina Colucci:
Is there an iconic Northwest creator that you want to hear from? Head to our website and leave a comment.