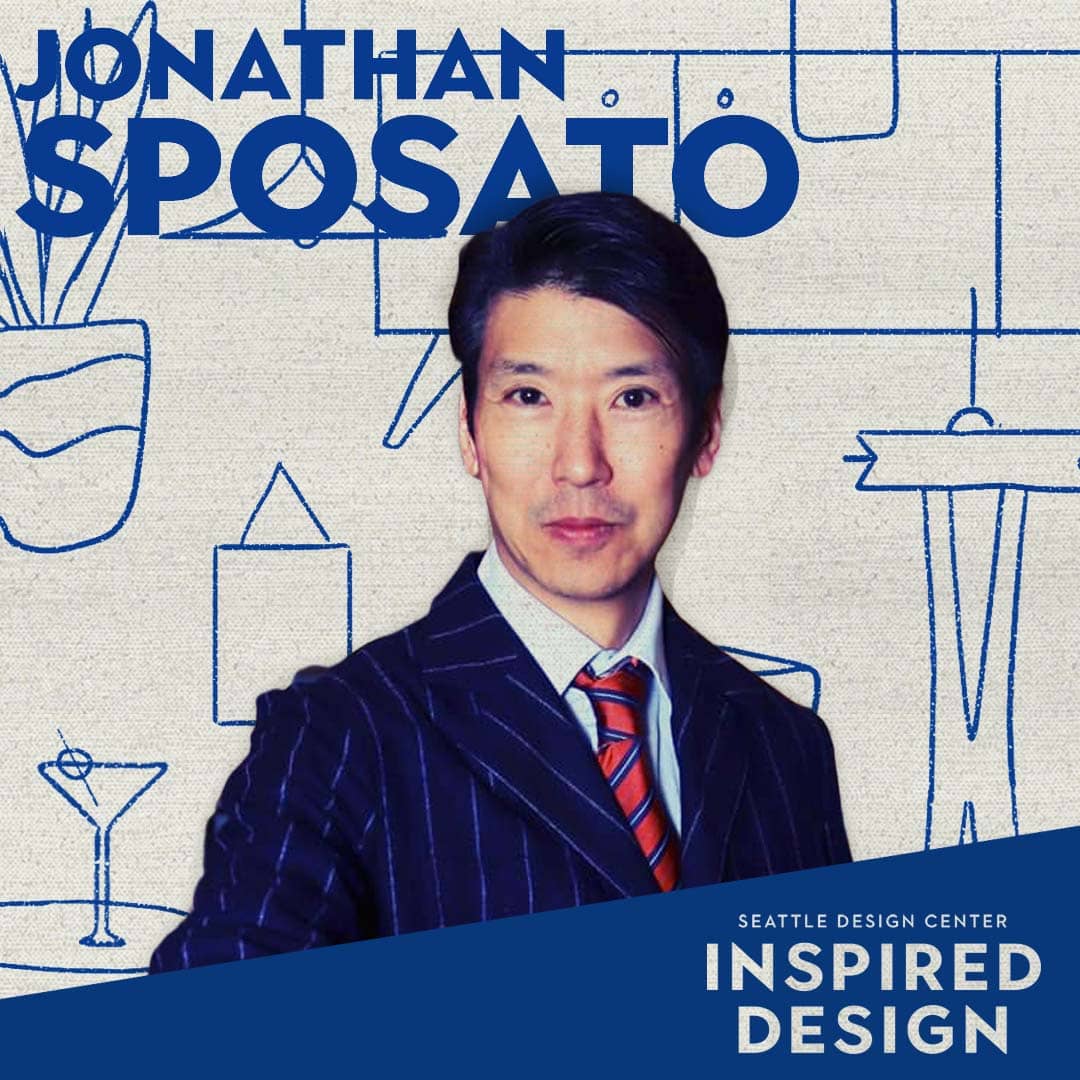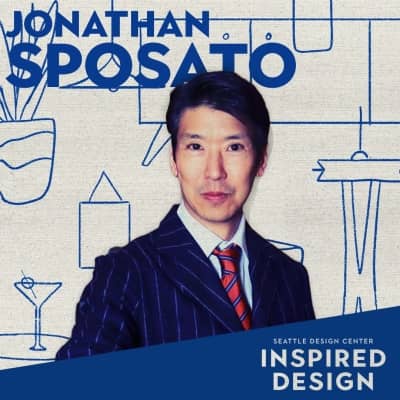 Jonathan Sposato | Gracious Gusto
In this episode of Inspired Design, we visit the architecturally stunning and artistic home of serial entrepreneur, tech and media giant, and creative mastermind Jonathan Sposato. Instead of focusing on his impressive business accomplishments we dive into his other passions and discover the intriguing things he tastefully displays around every corner of his home. He shares these intimate details with us with a kind, engaging and humble presence you won't want to miss.
Listen on your platform of choice
[abcf-grid-gallery-custom-links id="5146″]
Episode Transcript
Jonathan Sposato:
… So much of our lives, I think that we have normalized to making very rational decisions and being very data driven. There was no amount of data that you could quantify that would justify a place like this, but it was very emotional.
Gina Colucci:
I'm Gina Colucci with the Seattle Design Center. Every week on Inspired Design, we sit down with an iconic creator in a space that inspires them. In this episode, we hang out with entrepreneur and angel investor, Jonathan Sposato at his family home in Seattle. Jonathan has had a wildly successful career. He was on the team at Microsoft who brought you the Xbox. You might know him as the first person to sell two companies to Google or the co-founder of Geekwire, or as the new owner of Seattle Magazine. Despite his impressive resume, Jonathan is very down to earth.
Jonathan Sposato:
We're super, super lucky that we live here.
Gina Colucci:
We tour his stunning home and we talk about every everything from art to film.
Jonathan Sposato:
I am a fan of even the David Lynch Dune, that I think has been somewhat misaligned.
Gina Colucci:
To family, to his upbringing.
Jonathan Sposato:
I spent summers working for my aunt and uncle down in Silicon valley back in the very early '80s.
Gina Colucci:
Jonathan's house sits on a corner lot with a beautiful water view and is very modern with a lot of 90 degree angles and clean lines with Florida ceiling windows.
Jonathan Sposato:
This was a total rebuild and the architect is named Eric Cobb. He's this nationally renowned architect. And as someone who's bullish on Seattle. I feel like that there's so many things happening in Seattle that, that what matters here matters to the rest of the world. And I think Eric Cobb is another example of that. And as you can see, he cited this house in a way that was just really amazing, and really transports you in some ways away from the fact that we're just five minutes from the city here.
Gina Colucci:
When Jonathan invited us in, we entered into the living room and the sun was streaming through the large windows and the minimalist modern space matched the outside of the home. The first thing we noticed was this Matte Black drum set right in the middle of the living room. You almost stumble over it walking in, and we wondered why was that right there?
Jonathan Sposato:
It is here because it is born out of a belief that possession is nine-tenths of the law, which means that if it's anywhere else, it will not get used or played. And so, this is really my 12 year old's thing. And it is so awesome to see a 12 year old activate on any kind of instrument, but especially on a drums. And he a smaller guy. So, it's just that really fun for me to watch him pound way on the drums. And we want to send a very clear message to him that he's welcome to just do it at any time. In fact, we love hearing him play even as we're in the kitchen making dinner. So, that's why that's there, really less about the aesthetics and less about that it might look interesting in a living room.
Gina Colucci:
It doesn't hurt that it's a beautiful Matte Black drum set with really shiny percussions on it?
Jonathan Sposato:
Yeah.
Gina Colucci:
And when you were picking it out, I love that you made the purpose that creative liberty for your 12 year old is so important to you that you're going to put it right in the middle of your main living space.
Jonathan Sposato:
Yeah. That's a beautiful way of putting it. So, I think it takes just as much effort to pick out something ugly as it is to pick out something attractive. So, why not pick out something attractive? And my son truth be told he picked out this set. He goes, "Oh yeah, Matte Black. That's going to be cool."
Gina Colucci:
We approve.
Jonathan Sposato:
Yeah.
Gina Colucci:
That's really cool.
Jonathan Sposato:
Excellent. I'll tell him that. And then you asked a question about the artwork, and I love mixing it up. So, you'll see Damian Hearst next to a wonderful local artist. Troy Gua, whom I've commissioned to do pieces both here at the house and also at my prior office. You'll also see Warhol mixed in there with other local artists. In the powder room is a really great full motion video of peace of artwork that's glass blown. This is the stuff you want to talk about? You want us to geek out about art?
Gina Colucci:
I want to geek out at everything.
Jonathan Sposato:
Yeah. Okay. So, yeah…
Gina Colucci:
We turn the corner and at the end of the hallway is this painting of Benjamin Franklin with the words whatevs painted over his face. And this cheeky piece of art is a great representation of Jonathan's fun personality.
Jonathan Sposato:
With Sean Hopkins, who's I think in Portland. And he just is an amazing, amazing painter. First when I saw it, I'm like, "Did he paint over like some…" But he does this to mimic the older style of paintings from the 1700s, and then he'll do some cool, interesting commentary on what's happening. So, that's Benjamin Franklin as if he was thinking whatevs. Yeah, so-
Gina Colucci:
So now we're going into the powder room [crosstalk 00:05:13]?
Jonathan Sposato:
Yeah. And so, this powder room-
Gina Colucci:
The first thing that you see walking into the bathroom is this cartoony looking pink crochet bear.
Jonathan Sposato:
It is a bear, that's right, yeah.
Gina Colucci:
Crochet with a pink crochet?
Jonathan Sposato:
Right.
Gina Colucci:
[Crosstalk 00:05:27].
Jonathan Sposato:
And this artist, what she does is… And I'll find a name. It just escapes me. We have three of her pieces, I think, where she uses found objects or old clothes that she finds. So just an old sweater.
Gina Colucci:
I love the multi-use.
Jonathan Sposato:
And again I can't remember the artist's name, but we have a couple of her pieces and she is a polymath in a sense that she's a filmmaker and that's her. She's stars in her own fantasy videos. And then she also was a glass blower and she creates this entire 3D installation where there's different things going on. And it is a full… I think it's like a 25 minute loop that tells a story.
Gina Colucci:
So the piece of art hanging above the toilet is this white frame. And inside of the frame are these three clear bubbles of all different sizes. And each one has a screen and the screen plays a video that the artist filmed just for this one piece of art. And it tells a story. Each screen will play in coordination from the other. So you would see the artist in a white dress in one screen, and then she would disappear and show up in another bubble. And it's all telling a story. And the story is a 25 minute loop and it plays music.
Gina Colucci:
Have you stood here and watched the whole 25 minutes?
Jonathan Sposato:
You know what? Weirdly I have always stopped myself short of the full loop because I want it to always surprise me. And I think I've owned this piece of artwork for five years. And so, I still see new things every time.
Gina Colucci:
Right. When you turned it on, and we started talking about something else. And then I heard the music and I was like, "Someone's phone going off?" But it's a full sensory piece of art, which is really interesting.
Jonathan Sposato:
Right. Yeah. And just there's a lot going on that is really delightful and clever.
Gina Colucci:
The content is abstract and playful and unique.
Jonathan Sposato:
Yeah. Just [inaudible 00:07:38]. Just look at it for a bit. There's a lot going on.
Speaker 3:
Oh my gosh.
Gina Colucci:
I know she's covered in balloons.
Speaker 3:
Oh my goodness.
Jonathan Sposato:
So, it's very cleverly shot, the whole thing to have three windows into the same fantasy.
Gina Colucci:
So cool.
Speaker 3:
I know.
Gina Colucci:
That's a memorable P right there.
Jonathan Sposato:
Yeah. That's right. So I think I was talking about how I think it's important to just mix it all up and not be beholden to any one particular style. And I think the old cliche is true just in terms of art. Buy what you love and buy what really resonates with you, because you're going to be surrounded by it for a long time. So, don't buy what you're supposed to buy, buy what strikes you. And I admit I'm not an investment buyer, as an art buyer. So, it doesn't matter to me if something goes up or down in value, as long as I've enjoyed it, then that's a win. This piece of artwork here-
Gina Colucci:
And we just walked around the corner of the living room. And now we're in almost like a study office.
Jonathan Sposato:
Yeah, it's a study. It's easy. It's low hanging fruit, if you will, to always do your modern house to have some really modern art, but this piece of art, this is from [inaudible 00:09:05] century. When I saw it, it really struck me. And this is a ghost ship that the artist saw when he was a young man in a merchant marines when he was 10 years old. So he saw the ship in 1890 something. The artist's name is William Wright Shaw. He is one of the first of the American impressionist. He's actually born in Germany, but came to the United States as a very young man. And as you know, the American impressionist studied under the European masters. So they were the next generation. And they were called the American impressionist because they painted here mostly in California.
Jonathan Sposato:
This was his fourth attempt to capture a memory of this ghost ship that he saw drifting in the ocean in a North Atlantic when he was in a merchant marines. The image haunted him so much that he really needed to get it right. And so, on his fourth attempt he got it right with this very painting. And he was probably in his 40s when he painted this. And he kept it in his studio, his entire life until he passed away. I think he was in his 80s. I think the second owner as it came out of his estate, but it struck me again very emotionally, because it's about the spirit of being indomitable. As it turns out, this ship washed the shore many years later. I can't remember what year, maybe 1910 or something like that, somewhere in Northern Europe.
Jonathan Sposato:
And when scientists were examining it, they discovered that it was one of the lost ships with a Spanish Armada, and it had been a drift at sea for 275, almost 300 years. So, this idea something could be out there for so long and not sink is highly emotionally resonant for me.
Gina Colucci:
The ghost ship in Jonathan's office was enormous. It took up the majority of the wall. It was an oil painting with rich, dark colors and gave off this haunting vibe. It was such a contrast to modern and bright art everywhere else in the house.
Jonathan Sposato:
Some people look at it and they see something dark and foreboding, but I look at it and I see survival. Yeah.
Gina Colucci:
Have you worked on something that takes many turns to get it right? Do you find something similar in yourself?
Jonathan Sposato:
That's a really great question. I feel like that I have, but admittedly few of us, myself included have that rigor and discipline to pursue something so doggedly that you would do it for four times. But I know that there have been entrepreneurial endeavors where it's taken me a cop three, at least three times to get something right. And it can be really hard especially if that's what you're focused on for that period of your life. And especially because the not getting it right is because you're getting feedback from the very people that you're trying to please such as potential users or readers. And they tell you like, "Oh, this is no good." Right? So, I think that you've got to just hang tough, just like the ship, not let it sink you, and keep at it.
Speaker 4:
Seattle Design Center is the premier marketplace for fine home furnishings, designer textiles, bespoke lighting, curated art, and custom kitchen and bath solutions. We are located in the heart of Georgetown, open to the public Monday through Friday with complimentary parking. Our showroom associates are industry experts known for their customer service. We're celebrating new showrooms and added onsite amenities. Visit seattledesigncenter.com for more information about our showrooms and our find a designer program.
Gina Colucci:
Tell us about these leather vests. Leather jackets next to book casing?
Gina Colucci:
The leather jackets in Jonathan's office weren't your average leather jackets. These were pieces of art. They were punk rock jackets with this vintage vibe. Some of them hand painted. Some of them were covered in pins. Each pin or patch came with a story. They encapsulate this specific cultural moment in time.
Jonathan Sposato:
Right. So, I think maybe a unifying theme here is that, it's about celebrating real things that have been in our culture and have been around for a long time. And that what is old is new again. Really a lot of times new things that we celebrate are inspired by things that came before it. So, before the punk rockers of the '70s, and I also have a collection of punk rocker jackets just for similar reasons. But before the punk rockers, there were the rockers, where they were English motorcyclist. And they would be superficially. They would seem like that they're the greasers of our countries mid-century pass. But the rockers were English motorcyclists who were total rebels. And they were listening to music that nobody else was listening to at the time.
Jonathan Sposato:
And they wore these leather jackets that were primarily a veer kit or Louis leathers, very high quality motorcycle garments. And oftentimes… In fact, all of the time they were highly customized. But I would pause at this as a really interesting artifact of really the way of the history of that culture. And then this jacket belonged to Chris Vincent who was one of the most winning '60s motorcycle racers, and won a ton of championships. And this jacket was actually made by one of Chris Vincent's friends for Chris. And it has a lot of the badges from his winnings, but importantly, it has this beautiful hand paint, a detail of his motorcycles.
Gina Colucci:
Wow.
Jonathan Sposato:
You just don't see. And later when I show you my World War II flight jackets that have similar hand painted artwork on the back, you're in theater in Italy or in Europe somewhere, you're just not taking this time to paint this, I would pause it. This has a really amazing example of something done in the '60s as jacket art that's just really beautiful.
Gina Colucci:
At this point we head downstairs. The floating stairs added to the modern feeling of the house.
Jonathan Sposato:
Eric Cobb likes to do these floating stairs, and he's iterated on this. But this is common to him. He likes to mix both wood and metal. And he did that pretty successfully here. There are days when just for the silly things that we do on Instagram, I've definitely geeked out on these stairs and posted a few photos of some of that. But the interplay between the light and the sun coming in and how it creates these amazing shadows on the walls. That's a great mid-century key [inaudible 00:16:01] piece that honestly, I don't know what to make of. I don't know how to respond to it other than viscerally. I don't think it means anything. I don't even know what the title of it is, but it's just-
Gina Colucci:
The size of it is what really strikes me.
Jonathan Sposato:
Yeah. That's where the scale of it…
Gina Colucci:
Yeah.
Jonathan Sposato:
The contrast. And I like the dialogue between it and the rest of the house. But you want to see more jackets? So, I'm going to go down to here and watch your step, it's a little dark, I'll flip the lights on here.
Gina Colucci:
Along the back wall, were seven to eight brown leather jackets that you could sense the passage of time. These jackets were not as ornate as the collectible ones upstairs. These were functional jackets worn by actual military personnel in World War I, World War II, Vietnam. They all came with a story. They all came with the heroism that Jonathan idolize.
Jonathan Sposato:
Who knows really why and how some of our random affectations occur? But again, as someone who's really fascinated by history… And I think to make this a little more personal, I didn't grow up with a father. I had an adopted father from my mom marrying when I was about nine years old, and he was great and he raised me. And then I met my real birth father when I was around 50. But prior to that, I think definitions of manhood or masculinity were things that I think I really grasp for. So, if I was to unpack my own psychology, it's 100% possible that I have an attraction to traditional symbols of heroism and traditional iconic masculine imagery. So to me, what's more badass than World War II fighter pilots. And so, most of these jackets, they are all real pilot jackets belonging to different armed forces.
Jonathan Sposato:
So, here's one. You've heard of Black Sheep Squadron, that TV series with Robert Conrad called Baa Baa Black Sheep. This was one of Pappy Boyington's squadron mates. So, in that very squadron, this guy flew Corsairs. And so, this is a jacket that's like 60 plus years old, 70 years old.
Gina Colucci:
Love the property of US Navy.
Jonathan Sposato:
Yeah. Property of US Navy. And it's really interesting, right? Because it's actually a Marine squadron, but the Marines of course flew off of aircraft carriers. They're really in some ways part of the Navy. And so, this is called a G-1, which was what the Navy pilots wore. And this is what's called an A-2, which was what air force or army air corps pilots wore. And so, a lot of the hand painted artwork that I mentioned earlier is super interesting. I think I'll flip one around to show you. The detail's different than the motorcycle jacket that I showed you, but that's a way I'm sure they had their last cockpit trouble. It was a way to make light of the fact that you could die at any minute from-
Gina Colucci:
You seem to have that sense of humor.
Jonathan Sposato:
Yeah.
Gina Colucci:
Do you have one that really speaks to you that you would say it's your favorite?
Jonathan Sposato:
Honestly, they're all… I would be hard pressed to pick a favorite. I actually do. We probably don't have time to get into each and everything. With each jacket is usually like a set of log books or some history from the family about who the pilot was and their career history, full disclosure. I was never in the military. My adopted father was a Vietnam veteran, and then he doesn't necessarily like to talk about it. And he's one of that generation. And I'm not into war per se, but I do for feel like that these men in this case were heroes, and they were asked at a very young age to do some incredibly heroic, incredibly difficult things in service of their country, politics aside, believing that they were the difference between right and wrong. And so, there's something very powerful in that. And so, each one has a really great story.
Gina Colucci:
And then I see this wall of photos and family photos, and how is your father on, obviously?
Jonathan Sposato:
My birth father's not here. And neither actually is my adopted dad. This is actually… There's no deliberate reason why… It's a lot of grandparents being shown here. So, my wife's grandparents, and he was a bronze star recipient and was part of a B-25 crew stationed in Italy. Some pretty incredible stories there. He's no longer with us. Here are my grandparents and some incredible stories there too, in terms of their own transition from peace time to occupied, that they were in Hong Kong, but that whole area was occupied by the Japanese during the second World War. And so, they spent some time in a POW camp, and then at some point the world returned to normal and they thrived after that. So, I think this is really just a reminder of how much those who came before us, that their connection to those ahead of us, such as my son.
Gina Colucci:
Yeah. And I love… Here, is that you?
Jonathan Sposato:
Yeah, that was me. So as I said, I was raised by a single mom who couldn't really afford to take care of me at some point. So we were in the really poor part of Brooklyn when there was a poor part of Brooklyn. And she just couldn't have me anymore. And so, when I was three she sent me to live with my grandparents in Hong Kong. And in Hong Kong, we lived in… There were four of us in a two bedroom apartment. And so, this was all the stuff that I had in the world was… And this is an interesting. Everything that I owned fit on this table. And this was I think my seventh birthday. And I just think it's a funny photo, but…
Gina Colucci:
And then from there you came back to the states?
Jonathan Sposato:
Yeah. I came back to the states when I was nine. So, when my mom married to really lovely Italian American man named Don Sposato, and that's how come I have an Italian American last name. And he raised me like I was his own, which I appreciated. But yeah, I guess I've always felt like that perhaps I've always had a bit of an outsider's perspective on things generally. So, as a result of all this moving around. I'm always the outsider that's not fitting in or something.
Gina Colucci:
But do you think that feeling then you came here to Washington? And I also read you were the only Asian kid in your school?
Jonathan Sposato:
Yeah, I was. But actually technically, I think there was one other, but we didn't have too much to do with each other, which is not uncommon in any minority group. That's double deviated. And it's true. I've heard this from women as well. If you're one of two women in an entire all male organization, sometimes you don't necessarily become best friends with the other person. You're so worried about making sure that you're not getting stepped on. So, that was definitely a very galvanizing experience for me. And I learned a lot of lessons about what the right currencies to activate are, socially in that kind of environment. So, yeah.
Gina Colucci:
And do you think that upbringing, feeling like the outsider, we can all maybe identify with that a little bit, but how has that made you into the man you are today?
Jonathan Sposato:
I think it makes me hugely sympathetic to people who are marginalized. And so, I would try to use as few of the current buzzwords as possible, but it really is important, I think for us to always understand the dynamics, the power, and privilege in any room, whether you are just at a meeting with work colleagues or you're a member of a board, or you are a faculty member, or you're a CEO, whatever it is. And to make sure that everyone has a seat at the table and that you help those who for whatever reason, have a little bit less of a voice and try to equal a playing field. And so, I felt the pain growing up oftentimes feeling less than. And I don't want to overstate all of that while those statements are true, they certainly don't define me now, precisely because you learn to adapt and to, well, hack your way out of those situations.
Jonathan Sposato:
And those are important lessons that I hope that my son learns. He has a pretty darn good. And sometimes I ask him, what's it like to be you? But my wish is for everyone to always take stock of what's happening and to help others who might need a little bit more of help.
Gina Colucci:
Jonathan's basement was this big open, great room that mixed multi-use space. And there was a really cool modern ping pong table. And then right by the stairs, is this old phone booth?
Jonathan Sposato:
Yes. That is one of the lasted of Mohicans. It is a phone booth that came out of, I think, Grand Central station in New York city from either the late '40s or '50s. And I bought it when I started PicMonkey and we moved into these offices where it was an open space. Everybody had a desk in an open area, and I wanted a phone booth to be… I made the phone… The phone actually works. It is dial tone and you pick it up. And then people can go in and they would make phone calls, not on that old antique phone, but on their cell phone. And they could have privacy. But then the phone does ring and so, I got a real number for it. And so, it would ring and that's how we signal to each other, "Hey, maybe it's time to gather and have a team meeting."
Jonathan Sposato:
So, when we moved out of that office and there was not room for it in the new, new offices, folks were kind enough to gift it to Jonathan.
Gina Colucci:
As we concluded our tour, you could tell that Jonathan and his family's house held a lot of stories and a lot of life had been lived there. And it was an interesting setting from the magnificent art on the walls to the fun ping pong table, downstairs to the drum set in the middle of the living room. And I wanted to know what was his favorite part of his home?
Jonathan Sposato:
I know. I think I will always value very highly the vestiges, the signs, the little details that are a result of living and growing our child in this house. There was a time and I've been completely 180. There was a time when I would worry about things breaking down or getting worn out or getting dinged or scratched and things like that. Now, I look at every ding and scratch, and every mark that my son caused when he was a toddler, or when we had our beautiful two dogs here, two puppies that we rescued, they were just a garbage mound dogs in Puerto Rico that we rescued that they passed away both at the same time at the age of maybe 15 during the pandemic. I look at every paw mark that's on the stairs and I miss them.
Jonathan Sposato:
And, and I don't think that I would ever want to refinish the floor as a result. Sometimes I look at certain well worn areas of the hardwood floor and I reminisce about the beautiful parties that we used to have here, pre-pandemic. I used to host a wonderful party for Geekwire. That was our annual summer party. And we would have all kinds of amazing people here that were so fun to talk to. And it was such a neat confluence of individuals. And those are times that you don't know when they end until they do end. And when they do end, sometimes you can recapture those moments again and reconstitute them, but sometimes maybe not. So in that way, my answer to your question, what do I wish doesn't change or that stays, would be those Signs of life.
Gina Colucci:
A big thank you to Jonathan for inviting us into his home and having a wonderful candid conversation with us. Inspired Design is brought to you by the Seattle Design Center. The show is produced by Large Media. You can find them at larjmedia.com. Special thanks to Michi Suzuki, Lisa Willis and Kimmy Design for bringing this podcast to life. For more head to seattledesigncenter.com or you can subscribe to our newsletter and follow us on social media. Is there an iconic Northwest creator that you want to hear from? Head to our website and leave a comment. Next time on Inspired Design, we sit down with real estate trailblazer, Liz Dunn at her thriving project, Chophouse Row.
Liz Dunn:
I'm not someone who thinks you plan your life out. I think just opportunities present themselves and you have to decide whether you're just going to take a left turn and do something.